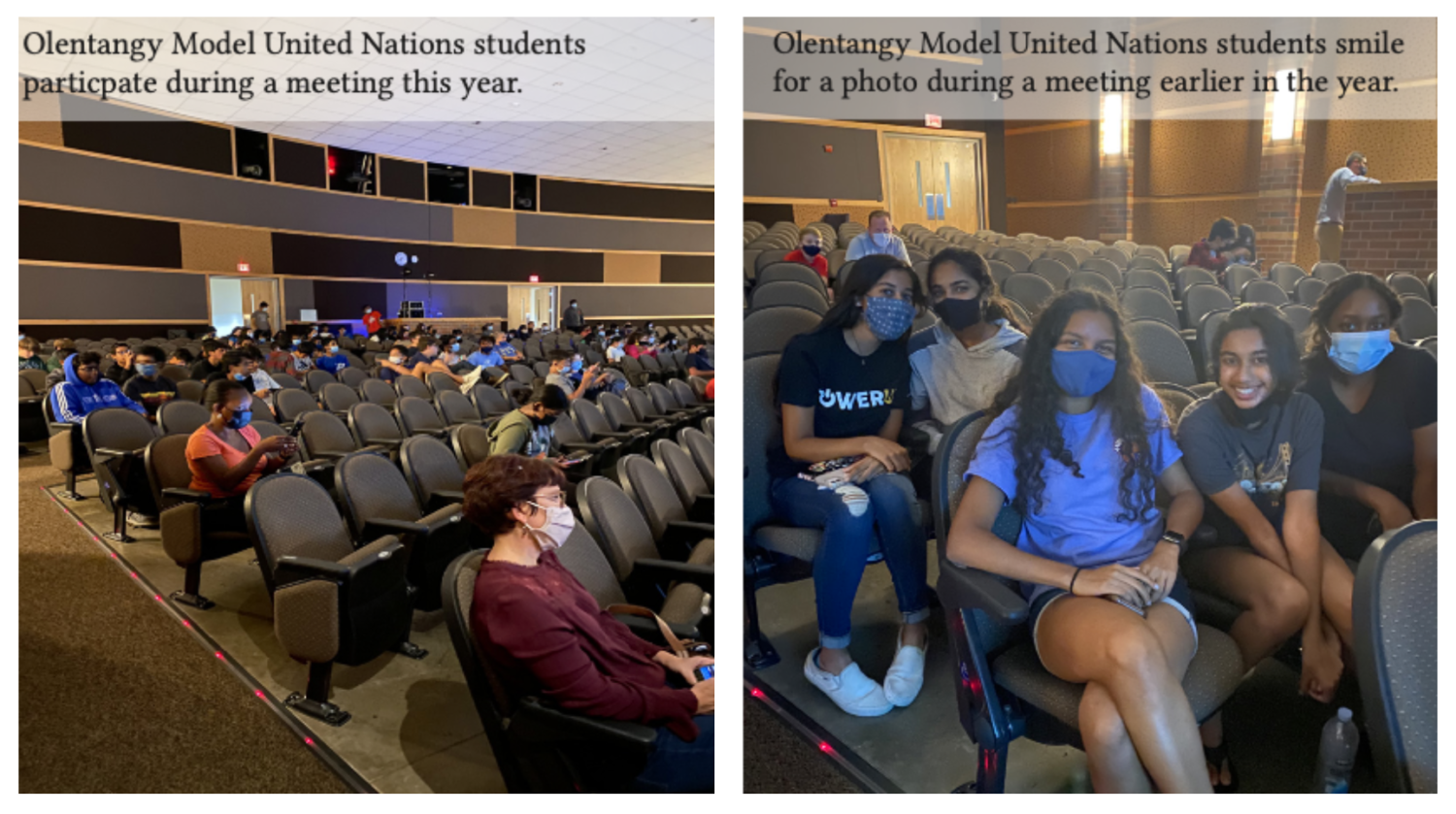 design: Cristian Ropero Montoya
photo credit: Sonali Kumar
The United Nations of the world works with numerous, diverse countries and world leaders to solve the different problems that come out of foreign policy and civil rights movements. Olentangy Model United Nations does the same thing, but with high school students.
Olentangy Model United Nations, also known as OMUN, is a district-wide club where students form groups to solve problems in foreign countries throughout the world. These issues range from pollution to women's rights, all crafted into a resolution to be presented for the rest of the club.
"Model UN is full of leadership opportunities. Also, I can't stress enough how much fun students have at the summit. It's an awesome opportunity to work together, learn a lot of new things and hone a number of different skills," English Teacher and Adviser Christine Dutrow said.
As with most of the high school's clubs, the COVID-19 pandemic forced students online with Microsoft Teams calls and less social opportunities. However, the club has since brought back in-person meetings and summits. Participation rate in the club increased along with the recovery of physical interactions.
"I feel like COVID-19 most definitely changed the environment and the amount of participation due to everything being moved online and over zoom. I'm just glad to be around my friends and all the other people in the club because that's really the best part," delegate and junior Keegan Richards said.
Created and run largely by students, Olentangy's version of the mock United Nations is unique compared to others in most high schools. Olentangy disbanded from the state Model UN four years ago to pursue a more student-led operative. Since then, students from middle to high school have participated and directed the program to maintain the initiative.
"Being independent from the state organization allows for more students in our district to take leadership roles and have more of a voice in the program. It has also allowed for many Olentangy schools to build a program from the ground up. At the end of the day, I would never advocate for us to go back," Secretary General and junior Joshua Layne said.
Students take on a responsibility when joining OMUN; more than just attending the summit and other meetings, delegates are also expected to finish work with their group outside of school. Over the six-month process, students need to research and find solutions to the problems in their country before presenting their final resolution at the summit.
"Global leadership, public speaking, teamwork and problem-solving skills are just a few of the things students take away from Model UN. I highly recommend it," Dutrow said.
The anticipated summit occurs every year where all students in the club meet to present their resolutions and vote to pass or fail a country's solution, similar to the official United Nations. Additionally, the summit provides enrichment opportunities for the delegates, with talent shows, costume contests and trivia which allow students to showcase the culture and diversity of their chosen country. This year's summit is planned for Feb. 18 – 20.
"The summit is an exciting event where students can debate as representatives from their assigned countries around all their friends and others around the district. I hope that students gain a better world understanding and confidence to share what they believe in," Layne said.
As people join from all over the district, the expansive program provides opportunities to build relationships and discover new friendships. While much of the focus in the club is on academic projects, students usually spend time at different restaurants and locations around their community to grow closer while also collaborating on a subject they're passionate about.
"I feel like since you're working in a group setting and working together to come up with a solution, you form bonds and become closer with the people in your group as well as people in other groups. My group likes to go to Panera when we have to get work done, so we have a lot of fun while also grinding our work out," delegate and junior Aimen Choudary said.
With each year comes creativity and new leaders who work to find viable decisions to real issues around the world. More than just an extracurricular, Olentangy Model United Nations gives students the chance to recognize the enjoyment that comes with learning and create change within their communities.
Any students interested in the club should contact Dutrow and be attentive of announcements at the beginning of next year.