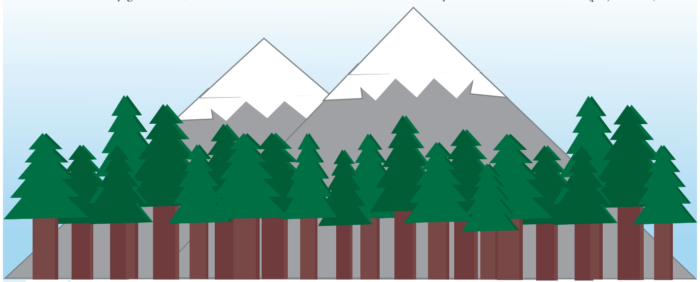 editor: Kendall Cadegan
design: Jaylen Lewis
photos: Kendall Cadegan
Being in Ohio, the high school is surrounded by many plants, various types of wildlife and lush forests right outside the school doors. Nature gives society many astounding sights, but many people don't realize everything that can be seen in the United States.
Different ecosystems and biomes make the United States unique to other countries that may only have one type of terrain. Each corner of the United States contains different natural features, along with national parks, that display the natural beauty here.
"I enjoy seeing the country. You don't have to leave the United States to see some amazing scenery. You also get the chance to meet some really wonderful people and try some really cool regional foods like huckleberry ice cream or elk steak," science teacher and Environmental Club adviser Jessica Timmons said.
In the Northeast region, mountains and trees cover the landscape. Acadia National Park, located along the east coast of Maine, highlights the hilly landscape and plant life on paths leading to viewpoints of the Atlantic Ocean or lakes within the park.
"My favorite parks are Shenandoah or Acadia because of the hikes and views at the end of them," junior Luke Border said.
Further South, the Appalachian mountains continue their sprawl to cover Eastern regions of the United States Parks such as the popular Great Smoky Mountains in North Carolina and Shenandoah in Virginia are located there.
"My favorite region is probably the Northeast or East Coast, just because people don't talk about them as much when mentioning national parks and places to go explore. There are a lot of really cool parks there. Plus, it's a lot closer to Ohio than the Pacific Northwest," Border said.
Making a few appearances in these parks, the Appalachian trail spans from Georgia to Maine passing through 14 states. This trail is not for the faint of heart and on average takes five to seven months to complete, according to The Appalachian Trail Conservancy.
The Southeastern coast ends in Florida that contains Everglades National Park. The marshy, wetland environment creates an environment with mangroves and aquatic animals that couldn't be seen anywhere else.
"I went last month and went on an airboat ride through the water and it was really interesting. I got to see an alligator and they also showed us some Native American artifacts and houses," junior Reagan McHenry said.
Going along the Southern United States, more national parks are located in Texas and most show off the desert wonders the United States has to offer. Big Bend National Park is located along Texas's border with Mexico and features canyons that were formed from the Rio Grande, the river that forms the border and desert plains. Guadalupe Mountains is just north of Big Bend, and just as its name suggests, the park's highlights are various mountains and a rich preserved history.
"For over 10,000 years, the Guadalupe Mountains have witnessed a constant stream of human history, including bloody conflicts between Mescalero Apaches and Buffalo Soldiers, the passing of the Butterfield Overland Mail, the coming of ranchers and settlers, and finally, the making of a national park. Today, the history is preserved at the Frijole and Williams Ranches, and at the ruins of the Pinery Station," according to the National Park Service.
Continuing westward, parks in Arizona and Utah feature the reddish and orangish color rock that sets the Southwestern region apart from anywhere else. Popular parks like the Arches, Zion and the famous Grand Canyon bring visitors from all over the country to see the unique stone.
Arches National Park has one-of-a-kind rock formations resulting from erosion starting as early as 65 million years ago, according to the National Park service. Currently, water from the rain does the most shaping.
"At the Grand Canyon, there was a building that gave you a lot about the history of the area and the Native Americans who lived there," Martin said. "There were a few native dancers who performed for everyone as we sat together and enjoyed the scenery and learned about the culture around the national park."

When reaching the West coast, California is full of natural wonders as it is the state with the most national parks. Parks such as Yosemite, Kings Canyon and Sequoia are in the same relative area and all feature various mountains and forests.
"My favorite park I've ever visited is Yosemite National Park in California. The mountains and waterfalls were so beautiful and not like anything you'll see in Ohio. I loved the variety of activities depending on how difficult of a hike you want to do. Either way, you're able to see beautiful sites. There's many activities you can do such as rafting and hiking," junior Rachel Lehman said.
Moving up the West coast, national parks can be seen in Northwest California as well as in Oregon and Washington. Redwood National Park shows off some of the largest trees in the world.
"Redwood National Park is the most beautiful place and the trees are so big. They make being a human feel insignificant. It was a very humbling and spiritual experience," junior Eleni Rores said.
Crater Lake, Mount Rainier, North Cascades and Olympic national parks are the most Northwestern in the contiguous United States. Waterfalls, mountains, lakes and seemingly endless paths go through these parks creating unique landscapes that can only be seen in this region.
"The National Park Service has a program called Every Kid in a Park, where fourth graders (and anyone else in the car) can get into any and all national parks for free. In the summer of 2023, our son will be in fourth grade so we are planning on a Pacific Northwest trip, where we will be visiting the following national parks: Theodore Roosevelt, Glacier, North Cascades, Olympic, Mount Rainier, and Crater Lake," Timmons said.
Heading back eastward, Montana's Glacier National Park has the natural beauty that continues to amaze people. "My absolute favorite. The mountains, the mountain lakes, the waterfalls, the mountain glaciers, the rainbow rocks. It's just breathtaking. They have mountain goats, bears, and moose, so you have to bring bear spray when you hike," Timmons said.
Finishing the contiguous United States, parks that are located in the Midwest are all relatively different from each other. Yellowstone National Park has geysers and vast wildlife while Rocky Mountain and Grand Teton National Parks are more mountainous. Badlands National Park has a unique light-colored stone that sets it apart from most others.

"Badlands NP is in my top five because you are driving through these low green hills and it just opens up and all you see are these gorgeous layers of rock jutting out of the Earth. It is continually altered by wind. It's just beautiful," Timmons said.
If looking to travel further, Alaska and Hawaii offer beautiful areas of preservation. Hawai'i Volcanoes and Haleakalā National Parks feature volcanic landscapes truly unlike any other. Alaska's many parks have the largest mountains in the country as well as a diverse wildlife.
"I will be visiting Kenai Fjords NP & Denali NP in Alaska this June. Kenai Fjords only has two trails because the national park is largely just an ice shelf. We are staying in Seward, Alaska and taking a marine tour to see humpback whales, orcas, puffins, and more. We are then hiking the Portage Glacier and then starting our train tour in Anchorage, where we will travel to Denali National Park," Timmons said.
Overall, no matter what natural features one may prefer to see, or where someone may want to visit there will always be national parks for everyone. Learning to appreciate nature and what were marked as sights meant to be saved for years to come allows people to be grateful for this wondrous planet.
"Traveling to see these wild spaces makes me appreciate our environment so much more, because some of these places are the last spots in our country that have been preserved as close as possible to their original state. I can't explain the sights, the smells, the sounds, the feeling of cold water from Jenny Lake in Grand Teton NP on your feet — it's an opportunity to reconnect with our planet. Visiting our National Parks simply makes me want to see more and I absolutely adore making memories with my family," Timmons said.
National Park week is April 16 – 24 this year, and its purpose is to encourage people to learn more about the history, culture and stories the parks possess. On the first day, entrance fees to the parks are waived to further explore any parks one may wish to visit.

"As a taxpayer, you help contribute to maintaining these wild spaces. When you travel, you develop new perspectives, material possessions lose their value and you realize how large and small the world really is," Timmons said. "National Parks were truly America's best idea."
With the earliest parks beginning to be formed in the 1800s, they created space for nature to thrive without the touch of humans.
"There is a delight in the hardy life of the open. There are no words that can tell the hidden spirit of the wilderness that can reveal its mystery, its melancholy and its charm." These are the words of former president of the United States, Theodore Roosevelt: one of the biggest advocates for the formation of national parks, according to the U.S. Department of the Interior.
In regards to national parks, Roosevelt had a vision of anything but businesses being involved. He purely desired to preserve the natural beauties of the country for endless generations so that children and grandchildren may be able to see these places in the same light that parents and grandparents did.
This is the importance of the National Park Service. Before President Woodrow Wilson signed the Organic Act on Aug. 25, 1916, which formed the NPS, there was no singular body overseeing the numerous national parks and monuments that were already established. The absence of this law would have inevitably led to them focusing on business competition rather than what Roosevelt had wanted them to set out to do: preserve the United States' beauty and history.
"One of the main things that I did when I visited Zion National Park was that I went on hikes that had really great views," senior Jack Helmer said, whose favorite national park he's visited is Zion. "I also tried to find cool spots to walk around and look at all of the natural beauty," he said.
National parks are heavily appreciated for the natural beauty they offer. After all, the nation's first national park to be founded, Yellowstone, is practically designated as a national park solely because of its unique nature.
"National spaces are beautiful, and I am so grateful to previous generations who realized those spaces need to be preserved," photography teacher Susan Strohl said. She has visited Yellowstone along with many other sites — "my parents were very good about throwing all of us kids in the van and heading to a national park or monument or museum on a regular basis."
While there are 63 different locations in the United States specifically designated as "national parks", there are so many more sites under the NPS, such as national monuments and museums. Like most national parks provide unique nature, many of these monuments and museums provide unique history: a different yet equally important aspect of national preservations.
"The history is what captures my interest initially; I love history, I love all things old," Strohl said. "An old dresser that has seen years of use — not necessarily because the dresser is so interesting — it's the lives of those who used the dresser. The dresser is all that remains of lives lived."
However, national parks and national monuments don't have to be separated by these qualities. National parks often have many historical aspects along with their natural beauty and vice versa.
"I have also been to Grand Canyon National Park, which has a lot of historical significance," Helmer said. "It is crazy to think about how the Colorado River created a landmark like the Grand Canyon and how long it must have taken to create such a large canyon."
Whether visiting a site in the NPS for its erupting geysers or for its underlying history that resonates even after leaving, it can be said that the United States should always thank Roosevelt, Wilson and anyone else involved in the creation of preservation. Thanks to them, there are so many sites in the country to see that most could never manage to travel to every single one in a lifetime.
"If you're in an area that is new to you, check out monuments, parks and significant sites that might be near you," Strohl said. These could be far from home, but they could also be relatively close; in fact, one of the United States' 63 national parks is in northeast Ohio, not even two hours away.
Cuyahoga Valley National Park was designated as a National Recreation area in 1974 and officially became labeled as a national park in 2000. Unlike some national parks, Cuyahoga is located very close to the Cleveland and Akron areas, so it's relatively accessible to many people — according to the National Park Foundation, "Cuyahoga offers something for everyone—from hiking, golfing, historic train rides, and kayaking to snowshoeing and cross-country skiing."
Up Close in Nature
photo: Emma Clute
design: Kendall Cadegan
photos: Jaylen Lewis
As my dad and I set out on our trip to Cuyahoga Valley National Park, I would be lying if I said I wasn't a little nervous. Before going, I had asked everyone I knew if they had ever been to the park and every answer I got back seemed to be a resounding no. I wondered, was this the least popular national park in the whole country? It sure felt like it.
It took about two hours to get there; my nerves continued to grow as we got closer to it and, looking out the window, my confusion grew as well. At this point, we were supposedly less than 10 minutes away from the park, yet it seemed that we were still in suburbia (rural, but definitely still suburbia).
As it turns out, Cuyahoga Park spans across multiple cities and isn't really one contiguous park. To be honest, it still didn't look like a national park when we got there. It just seemed like a forest and some green space. However, we refused to let that deter us.
We grabbed a map and then set off to hike the Ledges trail. I had picked this path while planning the trip because it was supposed to be a daring and somewhat difficult hike and I was feeling adventurous that day — like nature was calling on me to explore something new.
However, it seemed that as soon as we began the hike, nature abruptly hung up on me. I suppose I should have known that going to Cleveland in the middle of winter after a rainy day would result in a more than "somewhat" difficult hike. I won't lie and say I didn't slip and fall on my butt; however, it only happened once, so I think we can just blame it on the mud.
Once we got going and got used to the trail, it was much easier and, soon after, the path reached an overlook with a 50-foot drop off. I suppose the Ledges trail was living up to its name.
As we continued, we discovered that the trail was largely unpaved and very rocky. This added to our excitement a bit, as neither of us had much experience walking on a path that could barely be described as a "path". Instead, it seemed that we were just walking on an opening between rocks and trees and more rocks.
The Ledges Trail is a 1.8-mile loop, but there were also many connector trails that could shorten the hike as well as take it to different places around the park. We decided to explore the Western half of the trail to see the bottom of the overlook, and then we went to the North end of the loop, cut back down to the shelter and headed to the parking lot.
And then we were back in the car and on our way to our next destination: Brandywine Falls — a 20-minute car ride from the Ledges.
This is the most recognizable aspect of the park and we were excited to see it. There were two paths to get to the falls: a 1.5-mile hike or a short walk on the boardwalk right to it. We decided that, at this point, we were done hiking and just wanted to see the waterfall, so we took the shorter path.
As we made our way down to the boardwalk, I could hear the sounds of the falls getting louder and when I looked down, I saw the river leading to a cluster of rocks and then the waterfall.
When I looked up, I noticed that the waterfall was much bigger than I thought and it was also covered in ice due to the recent cold weather; that made it even cooler in my opinion. I have seen a lot of waterfalls before, but none that had huge chunks of ice blocking water from coming out of certain areas.
After my dad and I looked at it for a while, we started making our way back to the car. Then we began our drive back home with two new experiences under our belts and an excessive amount of photos to commemorate it.