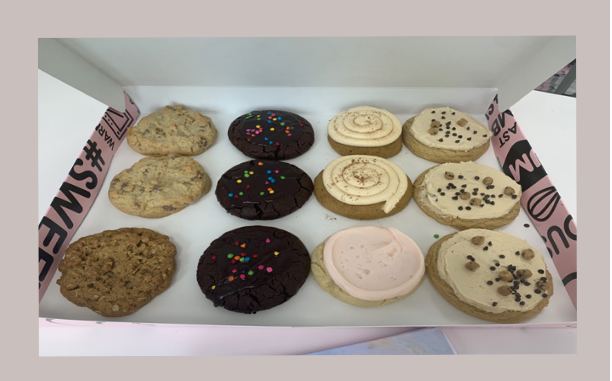 From TikTok fad to being featured in DJ Khaled's collaboration with Justin Bieber and 21 Savage, "LET IT GO," it's safe to say Crumbl Cookie is growing quickly. Starting in 2017 as a side hustle for founders Jason McGowan and Sawyer Hemsley, Crumbl Cookie now has locations in 32 states with over 200 individual stores.
What makes this store so unique is that their menu is unpredictable. Every Sunday, a new set of four to five flavors is released for the week ahead. Currently, there are five stores in Ohio including a new branch that opened in Westerville on Thursday, Sept. 9. With this in mind and it seemingly being the current teen obsession, Makenna Shrager, Nick Woolard and I went to find out if Crumbl Cookie is worth all the hype.
First, walking into the store, it is notably clean and minimalistic. The staff is very welcoming and they gave a complete run-down of the flavors for the week. They are constantly baking, decorating and preparing fresh cookies. But also, the staff goes out of their way to talk to customers while completing such tasks. This service gives the store a very friendly atmosphere.
The cookies themselves are a bit pricey at $3.50; however, they are also bigger cookies: about 4½ inches in diameter. Crumbl also offers packs of multiple cookies: 4 @ $11.50; 6 @ $16.50; a party box (12 cookies) @ $28.75.
The first cookie I tried was the caramel pumpkin. This cookie was served warm and was extremely easy to cut. There was cinnamon sprinkled on top of the icing; the cookie itself was tasteful and the pumpkin flavor was extremely potent. However, the icing was too sweet, and I couldn't really taste the caramel. It wasn't my favorite, but it definitely lived up to its name. Overall, I give this cookie three out of five stars.
Next was the cookie dough. This cookie was served cold and was a bit hard to cut. The cookie itself suited the idea of cookie dough very well, but the frosting overpowered the cookie. There were little bits of cookie dough and chocolate chips sprinkled on top, which, although a cute idea, added to the sweetness of the frosting. I couldn't really taste the flavors; just how sweet it was. This led me to rate it two out of five stars.
Personally, I'm not the biggest fan of oatmeal cookies, but this "classic oatmeal" cookie was probably one of my favorites. This cookie was served warm, had a crunchy outside and a gooey middle; it basically fell apart in your mouth. Thus, leaving me to give it a four out of five.
The next cookie was modeled off of the "cosmic brownie" treat. It was served warm and very gooey. It almost tasted exactly like a brownie. However, fair warning: this cookie is extremely chocolatey. I would definitely recommend this to a chocolate lover like myself, but it had a rich taste, so this one would not be the best pick people who don't like chocolate. Being my favorite out of all the cookies, it definitely earned five stars.
They also had a regular milk chocolate chip cookie that, unlike the others, is one they have every week. This cookie is served warm, and the chocolate doesn't overpower the cookie itself. It's soft, yet has a good "crunch" on the outside. Honestly, it's just a solid chocolate chip cookie, earning it a five-star rating.
Lastly, the classic sugar cookie. Served chilled, the cookie itself was crumbly and fell apart. Also, it was a bit dry. The frosting was a good texture but way too sweet. Nick thought it was good and compared the frosting to "tasting like the outside of a red Dilly Bar". Because of how sweet it was, it's a one out of five stars.
All in all, Crumbl Cookie definitely lives up to the expectations set by Tik Tok and my friends as long as you get the right cookie. I was a little put off by how sweet the cookies were, but it's definitely worth it. I would recommend adding Crumbl Cookie to a list of locations to stop by when you get the chance.