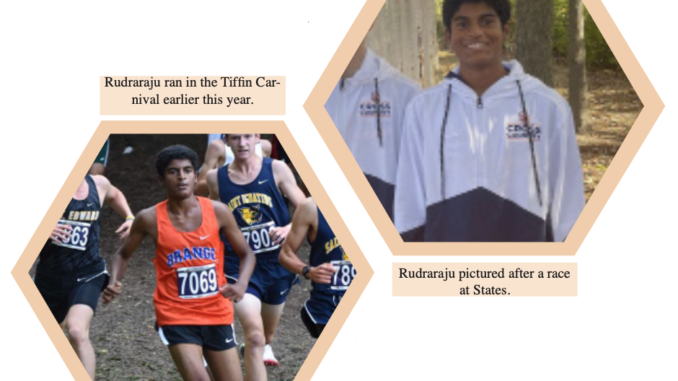 It's not every day you come across an athlete who is dominating in a varsity sport as an underclassman. Saketh Rudraraju currently has the fastest time on the cross-country team and holds the second spot all time at the high school – he is only a sophomore.
"When I first met Saketh it was before my sophomore year and he was only a freshman, during our summer time trial he broke my freshman PR, so I knew he was going to be good. He still surprised everyone, by the end of the season he broke the freshman school record and then broke his own record a week after that," junior cross-country runner Carter Giacomelli said.
Rudraraju started running cross country during his 8th grade season and has only been improving since.
"My first 5k at the beginning of freshman year was a preseason time trial with the team just to see where everybody was at, I got second on the team. After that my time just kept dropping the rest of freshman year," Rudraraju said.
Rudraraju performed well his sophomore year, where he qualified to run at states. He would go on to finish 16th overall.
"My race at states this year was a weird one, 400 meters into the race my shoes fell off. At the first mile I was around 10th place, but I slowly started to fall back, with 400 meters left I was in 19th so I gave it my all and passed three people to finish 16th," Rudraraju said.
Even without shoes Rudraraju managed to finish on the podium and secured an all-state spot.
Although the cross-country season is over, Rudraraju is already preparing for both track season and next cross-country season.
"Saketh is a shy kid until you get him to open up, that's when you realize how extremely good his work ethic is. He is a very hard worker and can accomplish anything he sets his mind too," Giacomelli said.
Rudraraju explained his number one goal was to stay healthy for next year and work on breaking the school record. He currently holds the freshman and sophomore 5k records.
Rudraraju is looking forward to track season in the spring and plans on using his talent to help in the 4×800 meter relay.
"Sak set every freshman record 800 meters and up, he is extremely fast and an insane athlete," Giacomelli said.
Rudraraju is already planning on running at the next level in college, although he is enjoying running in high school.
"My favorite race was the Celtic Clash at Dublin Jerome. Our team did amazing, and we won the meet. I got second place by around half a second, but regardless of that I was still satisfied by my performance," Rudraraju said.
In addition to cross-country and track, Rudraraju is also a hard worker when it comes to academics. He is an AP student and is involved in Model United Nations.
"Saketh is the definition of what it takes to be a student athlete. We both take the same AP Biology class, and he always finds extra time to study even when he is busy with training," junior Luke Woolard said.