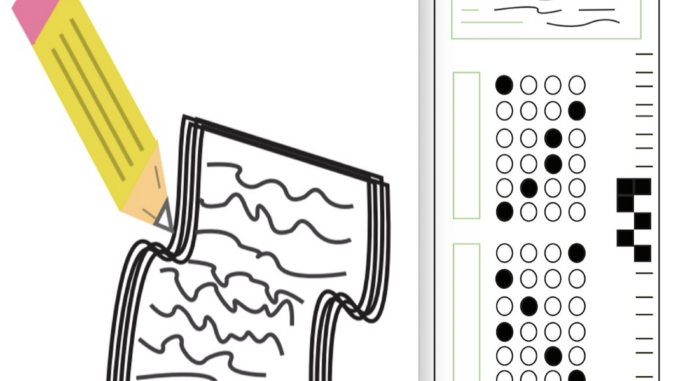 design: Jaylen Lewis
As the school year ends, many students and teachers begin to prepare and ponder about the upcoming AP exams. After the chaotic atmosphere of the AP exams last year due to COVID-19, the College Board has made changes to this year's exam to accommodate every student's needs.
The College Board has kept teachers and students updated across the country throughout this school year. They have done so through different forms of communication.
"The College Board has informed us through email, updates on social media for the students and regular updates on their official website," AP Psychology teacher Brook Sandy said.
The College Board will also continue the review lessons this year just like they did last year. This is to make up for the loss of in-person class time for students who are either on a hybrid or virtual schedule.
"We have less time but are expected to teach all of the content of a typical year. This gives us virtually no time for a typical exam review," Sandy said.
Although the College Board has offered these review videos, teachers and students alike feel as though it is not enough to fully make up for the loss of time to review exam material.
"I feel that I have been much more rushed this year as compared to years past," AP Literature teacher Tyler Williams said.
The content covered on the AP exams will be the same as a typical school year for most courses. The only exception is that AP Physics 1 has cut units eight through 10 from this year's exam, according to the College Board.
"As far as I know, the content of the exam will be the same as a normal school year" Sandy said.
This is largely due to the fact that many universities did not offer college credit due to the exams being shortened.
"The exams will cover the full year of course content as some universities ultimately did not give credit for last year's exams for this reason," Sandy said.
Last year, many students experienced technological difficulties when taking the AP exams at home. The College Board has decided to offer assistance with technology for people who will need them prior to the exam.
"They are providing earlier opportunities to test and receive assistance with technology well ahead of the exam," Sandy said.
They have also decided to offer different ways for students to take the exam to accommodate with the different attendance models across the country.
"The College Board is giving students three options for taking the exam though" Williams said.
Administration 1 is a traditional exam for all subjects. This is a paper and pencil exam that will be taken in-person at school.
The dates offered are May 3–7, 10–12, 14 and 17, according to AP Central.
Administration 2 is a combination of online and in-person exams. Students will take half of the subjects on paper and the other half will be online either at home or school.
The dates for these exams are May 18–21 and 24–28 in school and at home, according to AP Central.
Administration 3 is a full online exam for students to take at home or in school.
The dates for these exams are June 1–4 and 7–11, according to AP Central.
The College Board has decided to take many precautions to prevent cheating for at home test takers. These policies ensure that the exams truly reflect students' knowledge of the content and ensure fairness to all students taking the exam.
A few of these precautions include not being able to move back-and-forth between questions, starting at the same time worldwide and specific security measures, according to AP Central.
Overall, the College Board is being very flexible with their exams this year. It has offered a variety of test options with updated rules to allow students to safely take these exams amidst COVID.