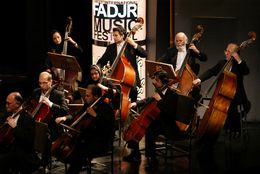 permission to print image: Gale
The school marching band and orchestra have had restrictions put on them, like many other extracurricular activities, due to the coronavirus. The activities are allowed to function, but with caveats in order to ensure the safety of the participants.
The orchestra classes function along the split schedule only and do not have after school practices, unlike the band. The orchestra only practices with half of its members, because the other half is on a different schedule.
"The orchestra typically meets only during the school day," orchestra teacher Lori Cornett said. "As a result, we have been impacted more by the hybrid schedule than our band counterparts who have after school rehearsals as we meet only twice/three times per week for each group."
The orchestra does not need to worry about playing indoors with aerosols, unlike band or choir. The instruments do not actively expel air and there is no singing. Therefore, masking instruments and playing outside are not required to reduce potential coronavirus spread.
Safety precautions are still being taken to protect the students in the orchestra. Shared instruments are only used on their assigned hybrid day and are disinfected between uses; students do not share music stands and are sat socially distanced as well.
The band has after school practices, in addition to in class practices. Safety is still of great importance, and several steps are being taken to ensure everyone's safety.
"The use of masks, maintaining a safe distance, keeping rehearsals outdoors, self-reporting and the use of devices for specific instruments (bell covers and wind defenders) to slow down the emission of aerosols by wind players are all of the things that we've implemented that have kept us on the positive side of things," band teacher and marching band director Ishbah Cox said.
Band practices and performances are very different. Band members are divided into four mini bands, practicing and performing with their assigned mini band. Capacity restrictions due to the Coronavirus prevent large gatherings and mandate safety measures, which the band has implemented. The mini bands assigned to march at the next home football game will work on marching at the practice field, while the other mini bands practice their music.
"This summer was a phased approach, so we went from seeing 25 percent of our band to working with 50 percent, and occasionally we work with the entire band. The band had not marched as a full group until well into September. It's also the first time that band isn't allowed to travel to support our team and perform halftime shows on the field at away games," Cox said.