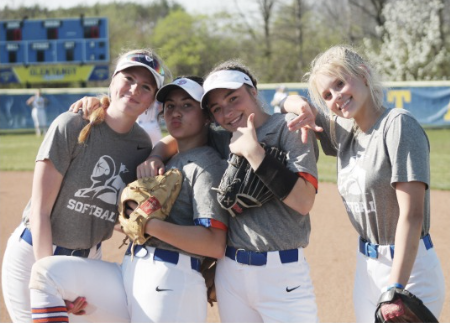 The softball team has started its 2023 campaign and has high hopes for what the season will bring. Players, coaches, and fans alike hold big aspirations for this season.
Last season, the team made it to the district finals; And this year the team is looking to build upon last season by winning the OCCs. It started its quest with a spring break trip to Florida.
"I thought the trip went really well. The girls got in five games and got a lot of reps in while having some quality team bonding. Trips like these are wha the girls will remember, and we love to give the girls opportunities like that. I thought the girls did really well and overall showed growth. We learned that we need to protect the ball a little more and be a little more aggressive," Head Coach Mason Robinson said.
The team took a week-long trip to Orlando, Florida over spring break. The team played five games, including matchups against Westerville Central and Watertown.
"The Florida trip went well, and although our record didn't really show it, we made a lot of improvement as we went and got better playing good teams. The experience was good because having fun together as a team hoped us bond and have better chemistry on the field," sophomore pitcher Gauri Naik said.
The softball season is already in full swing, but that doesn't mean the team's strides toward improvement are over.
"Each game we are getting better and seeing the team we can be. We intentionally scheduled difficult games to compete in and our girls have shown a lot of competitiveness. Our goal is to win the conference which starts Wednesday," Robinson said.
Underclassman athletes on the softball team have been striving to make the seniors' final season memorable.
"The underclassmen are helping make their last season worthwhile by contributing to the team's goal of winning OCCs through helping the team attitude and helping make defensive plays and offensive contributions," sophomore catcher Emily Rodenberg said.
One of the most controversial topics within sports is the debate of turf versus grass playing fields. The high school has opted to play on a turf field.
"The turf has been a great addition for our program. It has really helped us get the. season started as we got to go outside a lot earlier than normal. We also get to move some rainouts from other fields home to our field. It allows us to play more often!" Robinson said.
The new turf also includes the new and large Pioneer P logo in front of the home base plate.
"The turf makes us realize how lucky we are to be in the program and it's nice because we won't have as many rainouts. Obviously balls travel differently on turf but we have done a great job adjusting to it," Naik said.
The team has a record of 12-10as of May 4, most recently losing at Liberty with a score of 3-7. Beating Dublin Coffman at home on April 26 then losing 3-2 to Upper Arlington with a walk of grand slam on April 27.