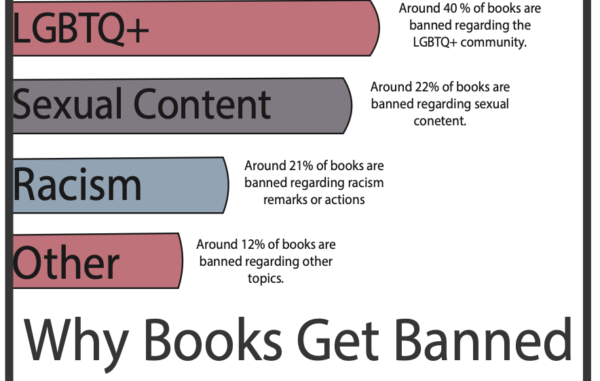 design: Sophie Rogers
source: Smithsonian
Books are an essential part of education, yet many people, and especially parents, are working to have certain books banned in schools, libraries, and bookstores. This type of attempted censorship would result in negative effects if they were actually successful in banning books.
Since the late 1800s, numerous books have been challenged in people's hopes of getting them off shelves and out of the hands of readers. According to the American Library Association, some of the most commonly challenged books include "The Hate U Give" by Angie Thomas, "Thirteen Reasons Why" by Jay Asher, and "Drama" by Raina Telgemeier.
According to pen.org, 41 percent of book banned titles contain LGBTQ+ characters and/or themes, and 40 percent are books containing characters of color. These statistics beg the question on what really is the reason behind people wanting to ban certain books and is a clear indicator of ignorance.
Books mentioning race and sexuality are highly important for people to be able to read about. It gives a voice and outlet, and it can help readers identify with something in the books in which they read.
Another theme commonly found within books some people want to ban is sexual content. People wanting these books banned fear that readers of these books, especially children, could get "bad ideas" by reading them. The issue with this is if it isn't in literature, it becomes a very hush hush topic.
People wanting to ban books are often trying to stray people, especially children, away from certain themes or aspects of life. The problem with this is that kids need that access to education. It can help kids learn maybe not just about themselves, but also about the people around them too. Trying to hide people away from reading about other subjects is stripping them of so many resources to learn about varying topics.
Additionally, if children aren't able to learn about these topics in books, the easy access to the internet may become children's new source to learn. The issue here is that the internet is not always the safest and healthiest form of education, with pornographic content as an example of this.
Even sillier books for younger kids are targeted by upset people wanting them banned. For example, "Captain Underpants" by Dav Pilkey "was challenged because it was perceived as encouraging disruptive behavior," according to the American Library Association. It's quite shocking that this illustrated book for kids could be an issue for many adults, yet there are people wanting it away from kids.
Many parents are trying to limit kids' access to books, yet they supply their kids with nearly unlimited access to the internet. It is hypocritical to want to limit kids' access to books, yet not limiting kids' access to the internet and social media, especially with how much more harmful the internet can be.
The idea of banning books raises the question on whether the ban of books violates the First Amendment or not. This question was brought to the Supreme Court in the case of Island Trees School District v. Pico in 1982.
In this case, the Island Trees Union Free School District's Board of Education had books taken off shelves and banned from the libraries of the junior highs and high schools in its district, according to oyez.org. Steven Pico sued and claimed it violated the First Amendment's freedom of speech and press, bringing the case all the way to the Supreme Court. There, the Supreme Court ruled that banning books would indeed be in violation of the First Amendment. Therefore, libraries aren't allowed to ban books just because some may dislike the content in them.
Taking away accessibility to books and censoring authors isn't right. As long as the book isn't harmful, there is no reason that they shouldn't be in school libraries or bookstores.
Censoring books just for one's own idea of what people should be allowed to be read about isn't fair. People should be allowed to read whatever they may choose, and these books should remain on shelves for future kids to read too.