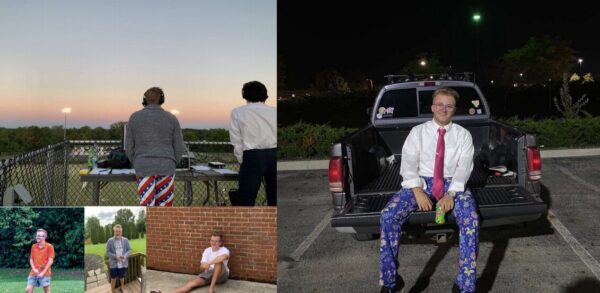 design: Sam Amonette
permission to print photos: Tannor Lambert
Swimming, I have swam competitively since the age of five. First as a Foxboro Barracuda in the Suburban East Swim League, the team that I am now a head coach of, and still a swimmer on. I then joined Greater Columbus Swim Team of Ohio, a club swim team, 12 years later in 2019 after the summer club season I left GCSTO for the new Force Aquatics swim team. Thirteen years of swimming has come to a culmination of a bittersweet ending with complete uncertainty during a global pandemic.
There is so much that goes into this sport, it is vastly different than any other sport at any level of anything.
First and foremost, most high school level and club swim meets take place at college pools. I don't know if there is a possibility of that at all this year. In the club world, Ohio State Swim Club is a club swim team with ages 5-18, and is based out of the McCorkle Aquatic Pavilion at Ohio State.
They are not having a season this year, when that decision was made there were and still are plenty of club swim teams out there that still don't have anywhere to swim or have an abysmal amount of practice time.
This is how most club sports are looking this season, but swimming is so unique to where there is nowhere to practice but in a pool itself. It becomes almost impossible to get any better without a pool to work with.
And with no pools and not enough lane time, a mad dash to join teams with pool time was on. But due to the pandemic there can only be so many people spread about through a lane and that all becomes a whole different issue. To put it simply, swimming is a mess at every level.
For the first time in over 25 years USA swimming time standards have gone the wrong way, instead of going down like they have been, there are increases in some of the qualifying times at every standard.
This is a huge opportunity for many swimmers, Olympic trial cuts are going to be easier to get. With the summer Olympics getting moved to this year, that is a huge opportunity for so many people to try and make the cut for those coveted two spots on Team USA.
Colleges have already started competing in virtual swim meets, and some high school and club meets will be completed virtually. Having swimmers compete in their home pools could be an advantage for many.
It is a very difficult task mentally to go to practice six days a week, with no idea if it is for anything. By senior year of high school, many swimmers who have swam club their whole life become burnt out. They become so tired of swimming back and forth 300 times a practice in the same lane for hours and hours.
Swimming is as tough mentally as it is physically. With Covid, that changed swimming even more and made it even harder, because there haven't been swim meets in months. Even if swimmers were lucky enough to practice, it was hard to find a reason to. Just being there to swim can become very boring if there are no goals.
I took the month of August off from swimming, and I didn't know if I was ever going to go back. I was teaching swim lessons and lifeguarding, but I didn't really miss it as much as I thought I would.
But in September, I went back to club practice and raced a couple of times and found love in it again. It was in a different way, but a new spark was created. I have no aspiration to go and swim in college, but to help out relays and do my part to help my teammates that is where I found love again.
This season is going to be way different, and there is going to be a lot that could go wrong. But I have to do my part in trying to get things to go right.
There is about 20 weeks until the championship season of swimming kicks off. Who knows what is going to happen between now and then. It is anyone's guess. Hopefully there will be chances to be great for myself and the rest of the Pioneer swim team. I know that I am excited to have an opportunity to go out on a good note in my senior year this season.