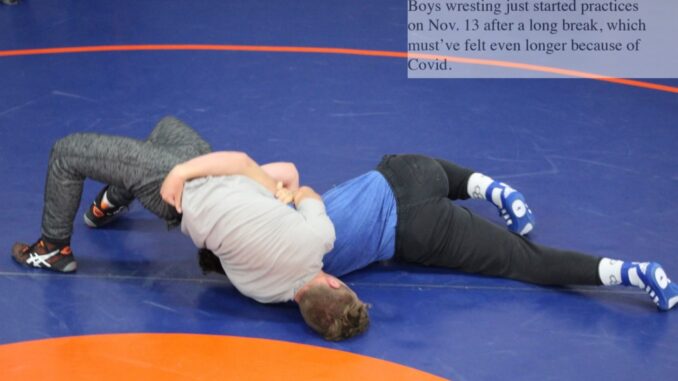 photo and design: Jaylen Lewis
December is rapidly approaching, and the winter sports season is upon us. Every program has hope, and that's all that there needs to be.
Looking at boys basketball, the Pioneers have a strong team this year led by seniors Andre Irvin and Jason Foster.
"We are very excited to get this season underway. We have a great group of guys who love to compete and who embrace the challenge of getting better every day" Coach Higgins said.
On the girls side of the court, the Delmore twins will still be leading the charge. But under new Head Coach Brian Cromwell.
"We are super pumped for this season, we are working hard everyday, we are grateful for the opportunity to compete with covid. We look forward to seeing our hard work pay off in games this season as we continue to practice and stay Safe!" Senior forward Brooke Thompson said.
In the swimming pool, a heavy senior class will be looking to drop more time and make a splash by advancing to states potentially. The girls and boys relays have a chance according to qualifying times last season and projections for the team this year.
"I'm excited for one last go with Graham and especially my brother Tanny. I can't wait to be back in the pool swimming for JR again." Sophomore backstroker Tuckor Lambert said.
The boys wrestling team has had one heck of an off-season with lots of uncertainty. The strong senior class is going to have to show up this season and win individually. That will lead to team success.
"The whole Corona situation is going to change a lot this season, and I'm planning to capitalize on that" Senior wrestler Zack Miller said.
The girls wrestling team is coming off a strong first year with a second place in the state finish. The program is already strong, with the capability to build for the future.
"The goal this year as a team is to win a state title and grow the sport for younger generations." Junior wrestler Lexi Simmons said.
The hockey team had some surprises last year and had strong wins against rival opponents. The boys will look to make a run in the playoffs this year as junior goalie Kyle Diehr is poised to be bigger and stronger, they also have a new Head Coach Brenton Blaskie.
"There is a lot that could go our way this year, we are excited for this opportunity. We don't have as much depth as last year, but we have talent and heart. Heart is what matters baby." Senior Defenseman Ethan Muth said.
Gymnastics won the OCC last year, and the girls are in a new gym. They have a lot they can accomplish this season.
"I'm excited for the season with new teammates, and our new practice gym." Senior gymnast Emma Wood said.
The girls bowling team is down in numbers this year, but not down in the fight. Juniors Eve Wicks and Lauren Berend are going to help lead the team this season.
"Last year wasn't perfect, but after our first few practices I can tell we are going to improve this year. Myself individually but the team as a whole too." Junior bowler Lauren Berend said.
The boys team similar to the girls had a good senior class last year. The young team will look to build and be better this season. In a new occ that can be tough.
"We had a successful season last year as we were co-champs in the OCC, we are going to build on that as three of our five varsity starters are returning including myself. Our goal is to repeat being conference champs and we want to make it to states this year." Junior bowler Nick Kicas said.
All in all winter sports are tough to pull off. We got a hint of that with volleyball in the fall. But with wrestling and basketball teams sharing gym time, and courts and matts, there could become problems. My column has a more in-depth look at the water 'Neers. Gymnastics, swimming, and bowling all have different rules because they don't compete on school grounds. Pioneer athletes are getting ready for what will be a season with many bumps and bruises along the way, but the opportunity to compete is something that no one is going to be taking for granted.