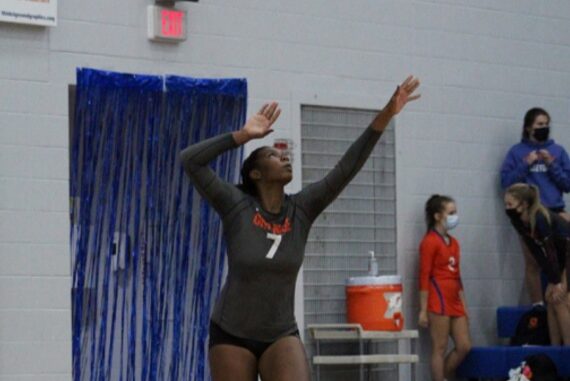 photo: Maggie Van Fleet
design: Jaylen Lewis
Fewer high school athletes have had better success on the volleyball team than senior London Davis.
The volleyball team dominated throughout the season this year, finishing the season 21-4 without losing a single set in OCC league play. On a team with many stars, Davis was one of the brightest, leading the girls to a historic season that got them far in the playoffs.
The Honorable Mention All-American volleyball player led the team with 301 kills on the season, advancing them on to a district runner-up spot this year. Davis committed to Kansas University as a junior, where she will travel to join the Big 12 team in one of the best divisions in women's volleyball. She will have a chance to be a part of the Big 12 and NCAA tournaments, a huge goal for all collegiate athletes.
Davis did not begin her career in the dominant position she has achieved; it took a lot of work as a young beginner to get to where she is in her game.
She began playing volleyball at 10 years old, and London claims wasn't the best starting out. "I was not very good when I was younger, but the coaches were so supportive as I was learning my way on the court. I never thought volleyball would become such an important part of my life because I come from a basketball family. I couldn't have even imagined all that has come with me playing volleyball," Davis said.
London's mom, Melissa Davis, agreed with her, stating her natural athleticism as a young girl was matched by her inexperience in the sport. "She was always very strong, but she did not know how to use her strength," Melissa Davis said. "She hit as many balls out into the stands as she hit into the court."
Melissa Davis said she did get much better fast, and that it has been because a lot of great coaches and mentors have pushed her to succeed.
"She has been lucky to have great high school and club coaches who have helped to develop her volleyball skills, as well as her IQ. The two combined have helped her progression from a novice player to a very confident player," Melissa Davis said.
Committing to a club team and all of the travel and practice that goes into it takes a lot of balance with other areas of life. London Davis said it was hard to ft schoolwork into her schedule at first, but over time, she got used to it.
"It was definitely a challenge learning how to balance traveling for half the year to tournaments and making up tests and turning everything in when it was due. I tried to stay on top of my schedule and talk to my teachers when I was feeling overwhelmed. Over time, I got better
at time management, but it was not always the easiest," London Davis said.
That balance between a hard club schedule may help her in the future, as she has had to get used to doing schoolwork with little free time or time in class, which is the model of a student athlete. She will be attending Kansas University in the fall 2021, with the NCAA volleyball season beginning in late January.
London Davis said she's very excited to be going off to Kansas to pursue her volleyball career and doesn't plan on letting it end after college.
"I am looking forward to playing with the girls at KU and under such a great coaching staff. It will be fun being far from home and getting to know so many new people, and I am ready to start on the next chapter of my volleyball career! After college, I hope to play at least one year overseas and go into some profession within the medical field," London Davis said.
As another student athlete goes on to the collegiate level, be sure to watch for London Davis hitting the Kansas Jayhawks court next winter.