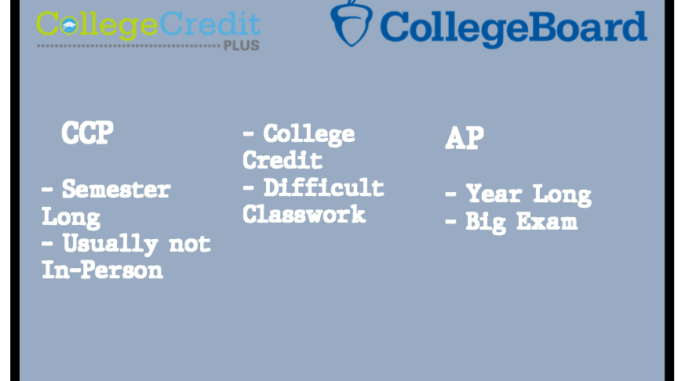 design: Nathan Chow
In recent years students who are aiming to achieve academic excellence, and reach the creme of the crop have been debating which route to take for their College Credit, and what will look the most appealing on a college resume is truly the best. Students in the Olentangy Local Schools District typically pick between AP Courses or CCP Classes provided through Columbus State.
According to the AP Students College Board, The AP Program offers college-level courses and exams that are available to take in high school. They also list that some of the advantages of taking the AP courses include earning college credit, standing out to colleges on your application transcript, and opening up time on your schedule/ even graduating early with credits.
Columbus State, which is Ohio's largest provider of College Credit Plus classes in 130 schools, defined the program as a way to earn college credit, and to fulfill high school graduation requirements at the same time.
Sophomore Alain Lin who is taking AP Bio, and AP United States History, said that even though he takes AP courses, he thinks CCP is more beneficial.
"I'd probably choose CCPs. They're semester classes and if you pass the classes you're guaranteed the college credit instead of having to pass the AP exam to be rewarded the credit", Lin said.
 Alain however, did say that he found  having a teacher in front of him teaching at his own school instead of somewhere else was better for him.
Junior Karan Grewal thinks the complete opposite though. Karan, who takes CCP Gov said that he prefers the CCP course over the AP Class from experience with both.
"I prefer CCP because there is no big Exam at the end of the year like AP, and you get college credit as long as you have a C". Grewal said.
There are pros and cons to each course though. The Ohio School Boards Association Journal listed some drawbacks from taking each. Since In person CCP classes usually take place at community colleges. High School students might be near non-traditional College Students who are older than the typical one, which the board said could be uncomfortable to students used to classmates their age. One of the downsides of the AP class is that even though the course itself is free Students usually have to pay over $100 for the final exam. And with Students taking multiple AP's these expenses can really add up.
Whether it be Lin taking AP Classes, or Grewal choosing the CCP route, students can take advantage of college credit opportunities through either course, and can pop out to Universities eyes during their High School careers.