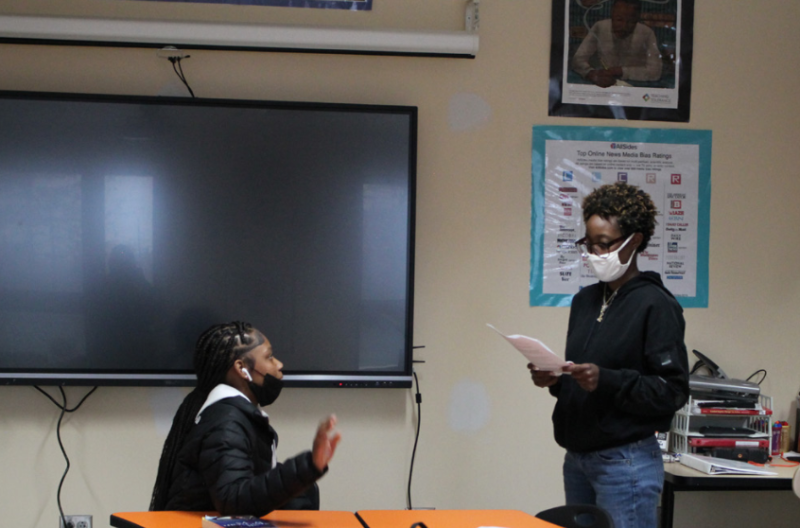 design: Mazzy Seigneur
The impact of black history directly correlates to that of American history, yet it has time and time again been left out. With the month of February being Black History Month, it is important to acknowledge the impact the black community has had as it continues to influence American culture and prosperity.
Black Empowerment is a club at the high school centered on making the school a more racially aware and comfortable environment for black students. Library Media Specialist and Black Empowerment Club Adviser Austin Nunn acknowledges the importance of diversity clubs in the high school setting.
"One reason why I wanted to be the adviser for those clubs is because I have a passion for diversity; I truly believe we are better people when we are together," Nunn said.
Nunn emphasizes that learning from each other promotes empathy. When appreciating all the unique differences and shared qualities, it depicts the beauty of the world. Recognizing so many voices have been marginalized he wants the clubs he advises to promote change.
"I simply want to be a person that doesn't just talk about helping but actually do what I can to help," Nunn said.
Senior Maxine Botchway, president of Black Empowerment Club, is striving to make the high school a more comfortable environment for its black students.
"A lot more black families are moving into the district, and not much is being done to make our community more inclusive. Lots of black students feel out of place here," Botchway said.
The goal is for black students to be unapologetically themselves and unapologetically black without having to worry about code switching or facing repercussions.
"Black people are the blueprint. We inspire, we create and we elevate almost every innovative and creative space there is. When we forget that, we forget to honor black voices and black minds," Botchway said.
Black History Month is the one time of year when black voices are able to be heard in spaces that are dominated by non-black people.
"Black history is made every day, and it's important that we take time to celebrate our contributions because society will find a way to silence us," Botchway said.
The assembly that took place on Feb. 11 was just one way to acknowledge the contributions of the Black community. It was a virtual assembly this year due to coronavirus restrictions.
"This year's theme for Black History Month was health, but we decided to branch away from that for our assembly so we're also figuring out ways to promote that as well," Botchway spelling said.
BEC Vice President and senior Imari Duncan illustrates the importance of the theme illustrating black influence in society.
"Our theme for the assembly is black influence through fashion, hair, sports and media. In an effort to stray away from the trauma that comes with being black, such as police brutality or even historic trauma, we wanted this year's theme to showcase the beautiful and joyous parts of being black," Duncan said.
BEC members are also trying to plan a spirit month and are in discussion about how to get people outside of Black Empowerment to participate.
The black community has and will continue to have an impact on culture. Taking the time to understand the importance of its influences on the world should not be confined to just one month.