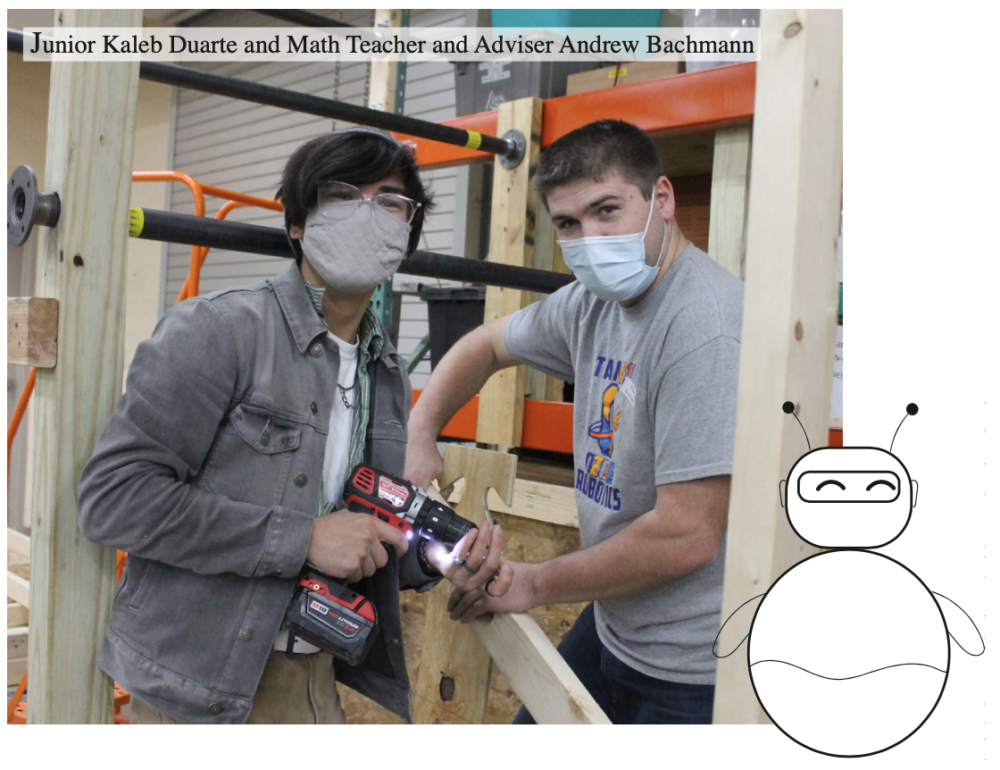 design: Makenna Shrager
Speedy death robots and passionate STEM kids line up for a new season of Ozone Robotics. Ozone Robotics, also known as Team 4611 is a district-wide Robotics competition club.
This year's challenge includes building a robot that competes in a game in which team members aim to create a machine that can pick up a giant fabric ball and shoot it into two hoops, one 4 feet tall and the other 8 feet tall. At the end of the match, there's also a climbing aspect that involves the robot traveling diagonally up four bars.
"When building a robot, first we learn about the new game for the season and we start to figure out what strategies to be competitive in the game. Next, we split up into different teams and start to design and prototype. After we've got a functional machine, our programming team makes the robot work," Robotics Adviser and Math Teacher Andrew Bachmann said.
The district-wide club has students with many different skill sets and they're able to join smaller committees based on their interests to work. This organization allowed for everyone in the club to have a role in the process, no matter what grade level or skills they had prior.
"We had several teams working on different things at a time that allows us to get work done faster, but also ensures that everyone is playing to their strengths. We had the design team, build team, programming team, electrical team and public relations team," design team captain and junior Kaleb Duarte said.
Robotics Club is getting back to in-person meetings after COVID-19 restrictions last year and is been preparing tirelessly for their big competition upcoming in March. Depending on their performance in March, they might compete in one or two more competitions.
"Last year due to the pandemic, we weren't able to attend the competition and had to hold a recreation course here at Orange. So, I'm really excited to get back to competing against other school districts. Being certain and confident in our abilities can send us to win many competitions," Duarte said.
The club meets mostly on weekends for about nine-12 hours per week, including Friday afternoons, Saturday mornings and Sunday afternoons, during the build season from January to the end of March. The members of Ozone Robotics will be traveling to Cleveland for the Buckeye Valley Regional from March 23-26.
"We are always focused on just getting better at our individual skills, such as design and programming but this year we are specifically focused on making sure our robot is a great climber as that is a big part of the competition this year," Bachmann said.
The Ozone Robotics Club also has a team at Alum Creek Elementary dedicated to "first lego league", a league of Robotics competitions at the juvenile level conducted through First Robotics. First Robotics is a global youth organization whose mission is to inspire kids about science, engineering and technology at a young age.
"This is a new addition to the program and I think it's really cool. They have drawers of legos lining the walls with robots littering the room and it's a childhood dream just being there," Duarte said.
Robotics Club is a great opportunity for students to strengthen their collaboration and leadership skills while also expanding their STEM knowledge. Students can also learn business skills by helping manage financial records and being in charge of purchasing items for the team.
"My favorite part about Robotics is that it's so validating to the team's skill to watch something slowly manifest itself as a real, tangible and successful thing. It's similar to watching a kid grow up, but objectively way cooler because it shoots balls and zooms fast," Duarte said.