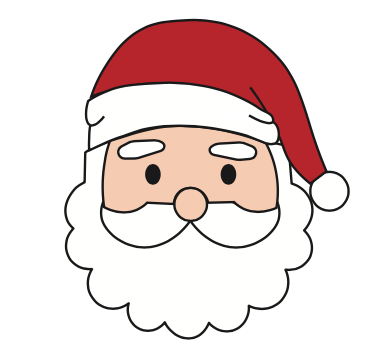 design: Audrey Selsor
Sarah woke up in her matching reindeer pajamas with the rest of her family and a stack of presents waiting for her under the tree. She jumped off her bed to admire the fresh blanket of snow she would make a snowman in later on.
As she quickly threw on her slippers, Sarah rushed down her stairs to the fireplace to gather all her little stocking stuffers. Her house was a total winter wonderland, decorated from top to bottom in ornaments and mistletoe.
Her family was waiting for her as she finally arrived to open presents, but there was one gift in particular that had been plaguing Sarah's mind: Santa's gift. She found a box wrapped in gold paper with a cute little bow, and immediately recognized it as Santa's gift to her.
In the United States, when most people think of Christmas, they think of Santa, the jolly old man in the red suit who brings all the children their presents. Santa and his famous reindeer are the stars of the Christmas season. However, this is not what it's like in other parts of the world.
French Teacher Larissa Sauder teaches her students all about Christmas and Santa in France and other French speaking countries. She experienced French Christmas firsthand while she lived in France.
The man who is known as Santa in the United States is known as "Père Noël but sometimes he is replaced by Saint Nicolas" who is the more religious figure of Santa, Sauder said.
According to GermanHolidayMarket.org, in Germany, Weihnachtsmann is commonly used to refer to Father Christmas or Saint Nicholas. However, this is not the only variation of Santa that exists in Germany.
"They also have Das Christkind, which is the Christ Child," German teacher Kelly Jessup said. "In Germany it's Das Christkind who brings the presents."
It can be a bit hard to picture another figure similar to Santa being the primary Christmas figure. Sophomore Emily Rodenberg, also an avid Christmas fan cannot picture anyone except Santa bringing kids presents.
"I've always imagined this guy with a long white beard and jolly red suit jumping in and out of chimneys to give kids presents," Rodenberg said.
American Santa's signature red outfit is how he's recognized by children within the United States. But Saint Nicholas' outfit is not the red suit most people picture as they do with Santa.
Saint Nicolas "is dressed more like a religious figure. In robes and the tall hat, more like a saint," Sauder said.
Even though appearance is a big difference between Santa in the United States and Saint Nicholas in France and Germany, it's not the biggest difference. Believe it or not the way that these two figures deliver presents is radically different.
"I was always told that Santa came down through the chimney, ate the cookies that were left out for him, and placed my presents under the tree while I slept for me to find the next morning," Rodenberg said.
Kids in the United States get their presents from Santa under their tree along with all their other presents from friends and family. This is not the case in France and Germany.
"The kids will put their shoes out, outside their doors and Saint Nick will bring them candy and things like that," Jessup said.
Another difference between Saint Nicholas and Santa is their unique punishments for naughty children. While Santa merely gives children coal if they're on his bad list, Saint Nicholas brings Krampus.
Krampus is like "Saint Nick's alter ego," Jessup said. "The tale is that he whips children when they're bad and puts them in a bag to take them to the underworld."
In France, the people who believe in Saint Nicholas also believe in Krampus. However, his name is bit a different.
"In France there's also Père Fouettard which is Father Whipping," Sauder said.
Saint Nicholas and Santa are most certainly two very different figures. But one thing they will always have in common is their ability to bring the Christmas spirit to people all around the world.
"My favorite part about the Christmas season is seeing everyone's happiness and excitement about the holidays," Rodenberg said.