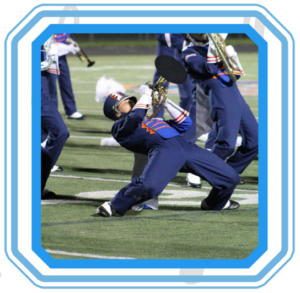 design: Teresa Christian
permission to print: Caleb Staten
There are many students who are involved with the performing arts program offered at the high school whether it's orchestra, band or choir. But, very few choose to extend past their one ensemble. However, Caleb Staten has become an indispensable member of the performing arts program with his involvement in all three programs at the highest level.

His interest in music started ever since he was little. Growing up, he was always surrounded by music wherever he was. His curiosity and interest in music led him to an opportunity to learn piano as his first instrument and ever since then, his love for music has grown exponentially.
"This recreational center had free piano lessons and that started me off. With some help from my aunt who also played the piano, I was on my way," Staten said.
Music has always played a crucial part in Staten's life. It created an outlet for him to creatively express himself and be exposed to the differences in music genres.
"He has taken the time to listen to a wide variety of musical genres and styles and this is reflected in his playing," Orchestra Director Lori Cornett said.
At the high school, Staten participates in various musical programs involving the three ensembles both inside and outside of school.
"I am in the Chamber Orchestra, Wind Ensemble, Jazz Band, Choraliers, Above The Noise and Tri-M," Staten said.
By participating in all three ensembles, he has gained experience and knowledge about music that he brings to each ensemble. He has become a core member of each ensemble by honing his playing skills.
"He has a strong sense of rhythm and plays very well in tune," Cornett said. "I enjoy working with Caleb because of his level of maturity and attention to details. He asks good questions that benefit everyone."
In addition to Staten's natural talent in music, his determination and drive constantly pushes him to improve his playing skills. He also strives to continually learn more about music to pair with his playing skills.
"I have seen him spend time in the practice room working on his college audition music and really analyzing his pieces so that he can play as musically as possible," Cornett said.
His passion for music is seen by many and his outgoing nature positively influences his peers in the performing arts program. Staten is a leader who leads by example.
"Other students can generally rely on him to be accurate. In sectionals and chamber ensemble, Caleb can always be counted on to keep everyone on task and to keep things running smoothly," Cornett said.
Throughout high school, Staten had time to hone his musical abilities; however, he has also become more mature and learned valuable skills.
"The biggest difference between Caleb Staten now and Caleb Staten in previous years is his focus. When Caleb started high school, he was in all the clubs and sports he could possibly do. Caleb has recently committed most of his time and energy into his passion for music," Caleb's brother, freshman Nathan Staten said.
Although Staten has committed most of his time to focus on music, he still participates in other extracurricular activities.
"I wanted to keep playing hockey because it's something that I've enjoyed ever since I was little," Staten said. "I am also on the Varsity Ice Hockey team."
To further develop his passions, Staten plans to attend Cedarville University and major in education to pass down the joy of music to future generations.
"I plan to be a music educator so that I can hopefully share what I got from music in my years growing up," Caleb said.