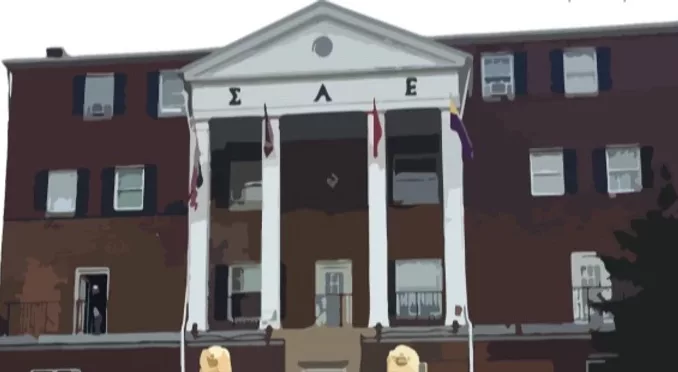 photo illustration: Nick Allen
The thought of college can be scary. Why wouldn't it? After all, going to college means having to adjust to a new environment and surround oneself with completely new faces. However, some may find that getting involved with college Greek life may make things much easier.
Greek life consists of several sororities and fraternities- organized social groups of women and men. They are large national organizations, each of which have individual 'chapters' at individual colleges. At Ohio State University (OSU), for example, Alpha Chi Omega is one of the chapters involved in their Greek life.
"Alpha Chi Omega is composed of all types of people with varied interests," President of Alpha Chi Omega Ashley Johoske said. "Even when some people are hesitant about the idea of recruitment, we often find the more people they interact with, the more comfortable they get with joining!"
According to OSU's website, the average cost of joining Greek life on its campus is $1280 per semester. However, this can vary depending on the college. The financial cost can be problematic for those interested in joining a sorority or fraternity, and while scholarships are available to help cover the cost, they may not be enough for some.
Another thing that has made people reluctant to join sororities and fraternities has been the way various movies and TV shows have negatively tainted their reputations in the past. However, what's depicted on the screen is usually not an accurate representation of Greek life.
"Some say that sororities are 'cults' or that it simply is just a 'whole lot of partying, alcohol and hazing' but that is simply not the reality at all!" member of the Zeta Tau Alpha sorority at University of Cincinnati (UC) Komal Dhillon said.
Because it is such an organized community, members of the same chapter of a sorority or fraternity live in the same house. While it may seem intimidating at first, those in Greek life attribute this to helping them build strong friendships early on in their college career, something many may find challenging due to their new environment.
"Because of Alpha Chi, I met friends who celebrate me at my best and encourage me at my worst. The women in this chapter are some of the most authentic people I have ever encountered." Johoske said.
In fact, according to Dhillon, being involved in college Greek life is actually quite laid back. There aren't many activities that take up one's day; therefore a regular day is not overwhelming and leaves one enough time to do other things.
"A regular day in a sorority is no different than any other school day! We usually just have a meeting or we're getting together for a sisterhood, [which is] an activity we all sign up for," Dhillon said.
Furthermore, getting involved in college Greek life also comes with many opportunities, one of which is being able to hold leadership and executive positions in one's respective sorority or fraternity. Because of this, members are able to acquire leadership experience in a large organization, something that would likely become useful in the future.
"Since I got involved in Greek life at UC, I now find myself holding a position on our executive committee," Dhillon said. "This is something I never thought I would do in any club or sport, but with the right support from my Big Sister (another girl in my sorority who acts as a mentor and a friend) and other friends I made in Zeta Tau Alpha I was able to accomplish this!"
Overall, most who have decided to be involved in Greek life did so in order to find a place of belonging during a time when that feeling seems like it is missing the most. Most members of sororities and fraternities describe their involvement in Greek life as one of the highlights of their college experience.
"As cliche as it sounds, I went through recruitment and sincerely felt 'at home'. I am continuously inspired by every woman in my chapter," Johoske said.
Information on how to join a sorority or fraternity can be found on every university's official website.