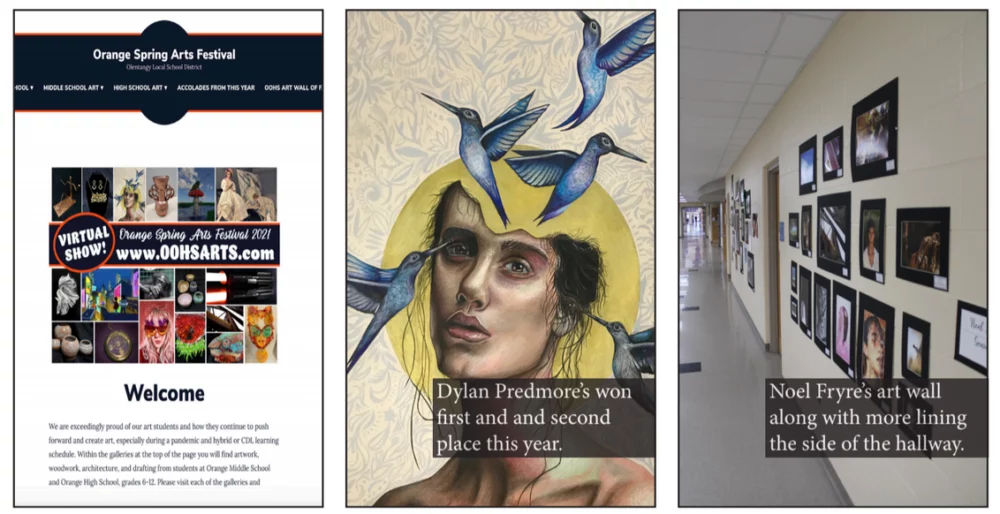 design: Jaylen Lewis
Walking through the hall and seeing the art hanging on the wall: the annual celebration of students' art brings a lot of attention to the school and is a big part of the last two months of school.
The arts festival showcases art from both the middle school and high school and this year, the in-person displays featured seniors' art and was available from April 26-May 7.
"This year was the 13th year for the Spring arts festival and had artwork from 6-12th grades from OOMS and OOHS, along with work from the Industrial Technology department (woodworking, CAD, architecture)," art teacher Stephanie Forney said.
Getting to spend time with friends while looking at art in the warm weather attracts a lot of people to the festival every year.
"I love the arts festival because you get to see so many types of artwork, physical and digital, from so many different people and classes," junior Ella Stamolis said.
It's also fun for students to see their own hard work put on display at the festival. Creating pieces takes a lot of time and effort, and seeing it can be very rewarding.
"I had 10 pieces in the show: four drawings and six paintings," Stamolis said. "For every piece, you start by coming up with some ideas you might want to explore. Depending on the prompt and whether there is a specific medium that's required to use for the project, you get some reference pictures and technique videos and work to figure out what you want to convey with each project."
There are also accolades given to students to celebrate their artwork and all the progress they made throughout the year.
"Awards are given in multiple categories for high school work along with special awards for Outstanding Senior, Best in Show and Principal's Choice," Forney said.
In a typical year, students and parents have a day to walk around the school and look at all the art. There are also snacks to eat and activities to do throughout the day that add to the experience.
"The art the students have done throughout the year is on display, and most years it's a whole event with food, bake sales, a chalk walk and arts and crafts set up to do as you walk around," Stamolis said.
With COVID-19, there were changes to what's typically done. The majority of the festival was virtual with an extended period of time to look at the in-person art.
"This year had to be different due to COVID gathering restrictions," Forney said. "There was a virtual arts festival that launched on April 24 and was available until the end of the school year. For our seniors, we did a special in-person senior showcase for viewing at OOHS from April 26-May 7."
The in-person showcase was the art department's way of honoring the seniors and all the work they've done for the past four years.
"Senior artwork was on display around the building, showing off their individual portfolios of work. This in-person showcase was available to all students and staff in the building for a couple weeks before the seniors graduate," Forney said.
While the festival had to be modified because of COVID-19, many were just happy that they were able to celebrate the artwork.
"I hope that COVID-19 doesn't affect the festival next year and it will go back to how it was before, but I'm glad we were able to do it in any way this year," Stamolis said.