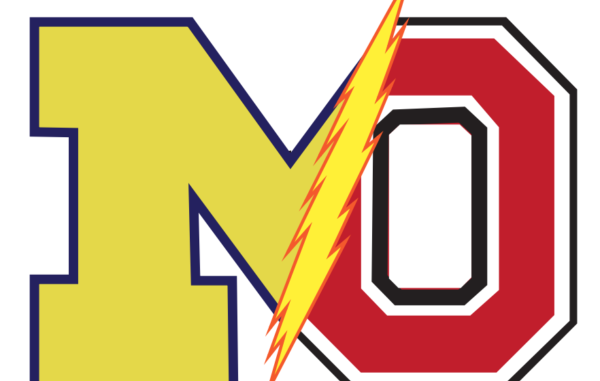 design: Lily Clark
Rivalries have been deeply ingrained into the history of sports. Everyone can feel the energy through the anticipation before rival teams play, the intensity in the crowd and the explosive celebration after a team scores.
Players physically and mentally train hard to prepare to go against their rival opponents. Just like the tension between rivals, their fans dislike each other just as much, possibly even more…but why?
According to "The Guardian", home is important to fans because, "the feeling of going to a stadium to cheer on your team is almost always a pilgrimage to some Edenic space of safety, comfortably surrounded by thousands unified by their common emotional connection to the place."
One of the oldest sports rivalries dates back to over a hundred years ago. Reportedly, in 1844, the first international cricket match occurred between the United States and Canada.
Up to $2 million in today's money was bet on the match, and Canada won. In following years, Canada and the United States repeatedly played against each other, flamed by the tensions of competition.
"Most rivalries start naturally when two teams play every year and are usually playing for a title (state, conference or national)," Professor of Sports History at University of Nebraska Scott Stempson said.
Although they aren't required to, rivalries greatly benefit sports. "Rivalries are a huge part of sports, and they make it all the better," Tannor Lambert said. "They keep sports alive." Lambert is a 2021 graduate; he swam competitively since he was 5 and was on the swim team in high school.
Many forms of media and businesses in the sports industry use the idea of various rivalries to excite fans about games.
"Sport teams, leagues, broadcasters and other media partners can leverage rivalries to enhance the demand for their sport. However, it is important for these business entities to be authentic in how they promote rivalries," Joe Cobbs said. Cobbs is the co-founder for the Know Rivalry Project, a group dedicated to researching and analyzing data surrounding rivalries. He is also a business professor at Northern Kentucky University.
Sports fans tend to pay higher attention to rivalry games, with sometimes even gaining the attention of non sports fans.
"Rivalries are usually good for the sport and TV ratings. Attendance usually goes up when those teams play. Many consider the Celtics-Lakers, and many more particularly Larry Bird-Magic Johnson, rivalry to have saved the NBA in the 1980s," Stempson said.
In the 70s, sports entertainment had low attendance and ratings, but due to the increase of rivalries, they blew up in the 80s and 90s. The heat and drama between teams encouraged people to become invested in sports.
According to Cobbs' research, "Rivalries do not only occur in popular sports. It is a sociological phenomenon across almost all forms of competition."
For Lambert, he has experienced the excitement of rivalries as a fan. He is a passionate Steelers fan and hates "every team in the AFC North that's not the Pittsburgh Steelers."
"As for who is responsible for rivalries continuing, I would say it's a combination of media and the fans. The media promotes them, but if the fans don't watch, it really wouldn't matter," Stempson said.
Cobbs said competitors greatly contribute to the continuation of rivalries. They "certainly play a role in the continuation of rivalries but so do the business partners involved."
Different regions also experience different rivalries. "In Columbus, everyone is going to tell you Ohio State and Michigan. WVU (West Virginia University) and Pitt (University of Pittsburgh) is what I live every day. Within the district, you have what are some great rivalries, and there's lots of back and forth on which one can be most important," Lambert said.
Stempson said Nebraska and Oklahoma in football "played every year and were usually the best teams in the conference and played for the conference title." When they stopped playing as often together, the rivalry started to fade.
Rivalries have such a deep root in sports history and provide people with something to talk about on Monday after a big rival game.
Although the purpose of rivalries is sometimes overlooked, they are a great source of entertainment for many people and will continue to bring spice into the lives of sports fans.
One of the widest known rivalries is the rivalry between The Ohio State University and the University of Michigan. The Ohio State and Michigan football rivalry is as old as time for college fans, and most people have heard of "The Game". The Big House, The Shoe, the gray helmets and the yellow and blue helmets: almost everything about this game is iconic.
According to Ohio State Football Historian Jack Park, the teams have played 117 times, and the record is 59-52 Michigan.
Park said that the rivalry goes back to the Toledo War between Ohio and Michigan arguing over state borders. Ohioans gave Michiganders the nickname "Wolverines" during the Toledo War because they believed they were acting wild and rabid. Michigan soon embraced this name, taking it to their football team and thus leading to the rivalry between Ohio and Michigan over a century later.
The Toledo War, which was from 1835-1836, was a dispute between the states of Ohio and Michigan on who had the rights to the Toledo Strip. The Toledo Strip was a prime location for agriculture in the 1800s, and each state claimed this area.
There was only one casualty in the war where a Michigan sheriff was stabbed in the side with a minor wound. Although tensions eventually cooled and state borders were decided, this minor scuffle would inspire the Wolverine namesake for Michigan and lift off the sports rivalry fans have today of the two states, according to Park.
"The deep history behind it goes back to the 1800s when they first started playing and even the Toledo War," Ohio State University junior Ryan Welch said.
Even Ohio State University's students have taken on the tradition of the rivalry by blocking out every M on campus the week before the big game. It has come to the point for fans, whether it be not saying the Michigan name and just saying "The Team Up North", that the rivalry has grown into a lifestyle.
"It's bigger. Everyone collectively hates one thing that we can all unite on, and we go all out, such as blocking out every M on campus," Welch said.
After an eight-year Ohio State victory streak, Michigan finally got its first win in over a decade with the 2021 victory against the Buckeyes, 42-27, according to ESPN. With almost a decade of domination, many wondered whether "The Game" could even be considered a rivalry anymore. However, Park disagrees.
"For most years, even though Ohio State had a streak against Michigan, the games have always been close," Park said.
So, will fans see another decade of domination for the Buckeyes in the 2020s or will they see a turning of the tides of a blue and yellow streak with Michigan's most recent win, prompting heartbreak for Buckeye fans and payback for the last decade of defeats Michigan has been through?
One thing is for sure though with its deep historic roots, this rivalry will continue to live on in infamy as one of the greatest sports matchups of all time.
Rivalries certainly aren't reserved for only college and professional sports. Even within high schools, the energy surrounding rivalries can be felt. Arguably one of the most exciting aspects of one's high school experience is school sports. Even if a student isn't interested in joining a sport, many students attend games as spectators in the student section.
"The student sections and student body had a huge effect on rival games. I remember many times the student sections really getting into the games," 2013 graduate and current business teacher Christian Hipsher said.
Rivalry games in the Olentangy district are some of the most exciting and motivating games during the season. However, when the district was much smaller, these games were very different.
"I remember when I was in high school, our school's rivalries were real rivalries, not just made-up." Intervention Specialist Miriam Zabonik said.
Zabonik, a graduate of Olentangy High School when it was the only school in the district, said the school spirit for rival games has decreased since the newest Olentangy Schools were built. Back when Big Walnut and Buckeye Valley were our main rivals, students would pack the stadiums full for each and every game, she said.
"Rival games pump us up and give us more motivation to be better athletes," freshman and student athlete Claire Jenkins said.
Student athletes are able to come together and build more relationships when they all have the same goal to win. This desire only increases when the rivalry games bring that winning incentive up with a bigger crowd.
"(Rival games) bring a larger crowd to the games because families and community members are excited to see the kids they grew up with compete against each other and compete against kids they've grown up playing against, like good friends and colleagues," Athletic Director Brett Diehl said.
Since most Olentangy schools are within short distances of each other, many families have close friends in other schools in the district. This usually results in friendly competition and students being excited to see old friends participating in their sport.
"COVID-19 took away the sense of community in the school, but I see it slowly coming back. I would say coming together as one and doing activities as a student body whether it be pep rallies, tailgates or putting together special student section 'stunts' will help build the community and increase the hype for these games," Hipsher said.
As the COVID cases have been decreasing, restrictions have been mostly removed for school athletic events. However, even last year during the season the student section was as lively as usual.
"As a student, I was on the wrestling team. In the off season, we would support other sports in the student section," Hipsher said.
Even in the off season, students would help work toward the goal of beating the rivalry team by supporting their classmates. Rival games often give students a sense of community.
"I would say that rival games were a fun, competitive addition to the student experience," Hipsher said.
Competition is usually strong within the district rivalry games. Almost all of the sports teams within the district are at a high level, meaning these games are fun and exciting to watch.
"To increase the anticipation for rivalry games and better support student-athletes, focusing on cheering on their own classmates, not so much about bringing down the opposing teams, always helps," Diehl said.
There are many things students can do to support their student athletes while in the student section. Many say even coming up with a good theme for the game can motivate a larger crowd to show up leading to a better experience.
According to MaxPreps, the football team has won against Olentangy and Liberty once in the past three seasons. Records being 1-9, 4-4 and 10-2.
This year, the Orange community, including students and student-athletes, will come together to support the school. Building back up and being positive despite past losses will go a long way.
Rivalries are on everyone's mind, especially with football season in full speed. Gossip and smack talk make their way into conversations through not only hallway talk, but also social media.
In Olentangy Local Schools, schools have a long-standing history of rivalries, and these rivalries have become even stronger between the past few years.
"Going to the games you could tell there were rivalries," Hipsher said.
2022 graduate and student section leader Lauren Berend saw not only the history between the rivalries but also the intensity of it as a school leader. She saw this not only reflected among other student section leaders, but the whole student body as well.
"Before becoming a student section leader, I didn't really understand the depth of the rivalries within our school district. I thought we just always hated them for no specific reason, but throughout the season tensions were always high and the student section leaders would always talk and kind of egg each other on," Berend said.
Berend often had to use the power of the rivalries to encourage students to come to school events. Rivalry posts made on the Pioneer Pit Instagram, @pioneerpit2022, got more interactions compared to their regular content.
"We definitely get a lot more likes, follows, shares, etc. when we post the rivalry content. Even more so when it's rumors and drama," Berend said.
These posts, though it wasn't their intention, would often lead to more tension and personal attacks between rival schools. Students would take these posts personally and then reply with a direct attack creating a social media spiral.
"Some people take them very personally, especially when the rumors are not true. So, social media definitely makes the tension between leaders and the student body so much worse," Berend said.
Many times, the comments said on social media are more aggressive than what these students could ever say to each other face to face. AP Psychology teacher Jamie Paoloni explained how this is an effect that social media has on people, especially teenagers.
"It creates a sense that you're anonymous," said Paoloni "Social media gives people the freedom to say what they want without necessarily understanding the direct consequences."
However, a sense of anonymity isn't the only thing that gives people the confidence to act out against their rivals. Group polarization is another psychology topic that makes teens act more radically in groups.
"Group polarization occurs when you're with groups of people that you're similar to, and your beliefs tend to grow stronger," said Paoloni "Whether those beliefs are true or not, they tend to grow stronger and stronger."
Both of these traits have been frequently seen in high schools since social media first started. Hipsher recounted his experiences in high school and compared them to today's social media situation.
"Twitter was like the wild west; it was newer and people were less aware of the implications of posting their business online so there were some pretty crazy Twitter beefs going on back then," Hipsher said.
Back when Hipsher was in school, social media was new and people weren't as invested in it; it was just an addition to the ways students expressed these rival tensions. Now, social media has become the place to be; everything happens online.
Sports rivalries have been around for a long time, and are something that won't be going away. These rivalries will continue to bring energy to sports for games and years to come.