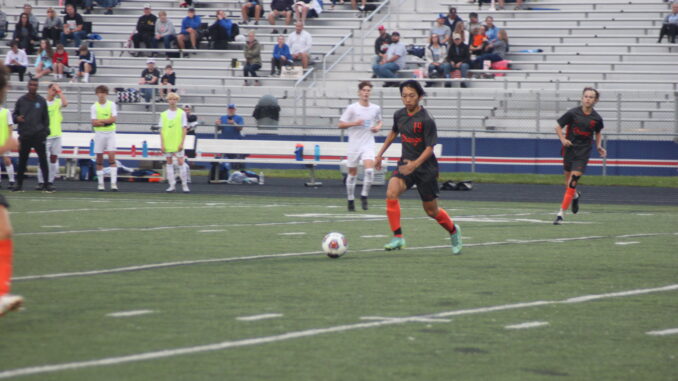 photo credit: Gabby Raney
Everybody loves sports. Club sports and high school sports are options of playing sports. Athletes get to be a part of a team. But which is better, club sports or high school sports?
With club and high school sports, there will be a difference. Maybe it is the setting or the people, but something is different.
"Clubs can be more intense because you're around more experienced people," sophomore Dominic Lee said. Lee is a wrestler for the high school and the Collin Palmer wrestling club. He has been wrestling since first grade.
Club players have more experience because they aren't just limited to wrestling people from one school. They have the chance to wrestle more experienced players from many different schools.
This is an advantage because players get the opportunity to learn and experience how great athletes wrestle. This will ultimately make them a better athlete and more experienced. Even with the advantages of club sports, there are still advantages of high school sports.
"Winning and competing against rival Olentangy schools," Lee said.
Lee enjoys competing against and beating rivals just like everybody else. High school gives athletes that feeling of accomplishment and pride for their school when competing.
Chemistry brought in from school relationships can be a huge advantage. Knowing somebody's playing style can make all the difference in a close game. Chemistry is a pivotal part of all teams.
Something important in all sports is development. When an athlete plays a sport, they want to be good at it. Practicing is important for chemistry as well as overall skill.
"Club soccer is more about developing players," Coach Collins Bedely said. "The best part is how to develop individual players and putting it back to play as a team."
Bedely is a soccer coach for the Columbus United club. He has more than 20 years of playing experience along with more than five years of coaching. Bedely is great at developing players and believes the key to winning is training and developing together.
Development is the difference between a good team and a great team. Any all-time great team had constant growth. Growth in development and growth in chemistry.
Sports are a special thing in all athletes' lives. One's future can be defined by the sport played. Both club sports and high school sports guarantee one thing, all athletes will have fun playing the sport they love.