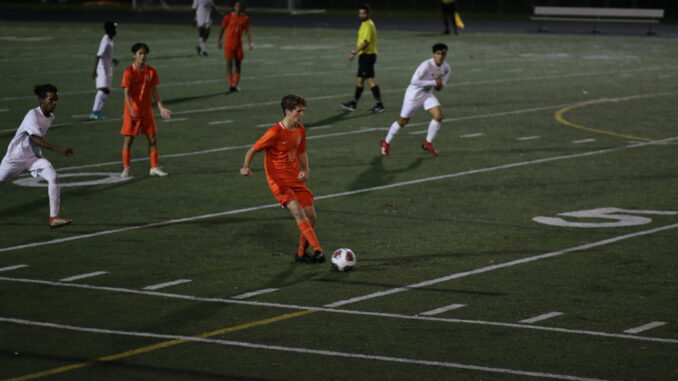 photo credit: Kayla Delmore
The Pioneers boys' soccer season will be a year to remember. From the uncertainty of being able to have any season at all to having the entire regular season and advancing to the district semi-finals for the second year in a row is nothing short of a blessing. In July, when the boys first started training, everyone could tell that this year was going to be special.
After months of conditioning and practice, the first game of the season finally came and it was time to face inner district rival Berlin. This game has been tightly contested every single year since Berlin became a school. The two schools have tied in every single match they have played against each other. This year had a different feel to it, both teams were loaded with senior talent this season and the game was starting to get a lot of attention.
"The game against Berlin meant a lot because we were a great team and so were they. It was also the first game of the season on a Friday night which drew a lot of fans making the atmosphere awesome," senior captain Alex James said.
The Pioneers ended up tying with inner district rival Berlin, with a final score of 0-0. In the Pioneers next game, they faced Pickerington North and ended with a 0-0 tie again. The Pioneers were able to turn things around in their next two games with them beating Thomas Worthington, 4-2 and inner district rival Olentangy, 2-1.
In the Pioneers next game, they played an extremely talented team in Dayton Carol, the Pioneers won this battle by a score of 2-1 off of a last-minute goal from junior Chewy Koo.
"It felt great to contribute to the team in that way because it showed that the work everyone put in paid off," Koo said. "I think it meant a lot to the team because it proved that we could compete with very highly ranked teams as long as we worked together."
After that impressive win, the Pioneers won three games in a row against Gahanna, Worthington Kilbourne and Hilliard Davidson. They then hit a road bump in their season with their first loss of the year coming to Dublin Coffman. After this loss the Pioneers won three games in a row against Bishop Watterson, Perrysburg and Saint Charles.
After these wins, the Pioneers' season started to come crashing down. They lost three of their last four games of the season to Hilliard Bradley, Dublin Jerome and Olentangy Liberty. The boys wrapped up their season by playing Franklin Heights in the first round of the tournament and winning by forfeit, the Pioneers then lost to Westerville Central in their next game by a score of 2-1. This year meant everything to team, with everything that they had gone through during the season made their bond so tight.
"This year meant a lot to me, obviously since it was my senior year, but also because of all the uncertainty. Not knowing if we were going to have a season was very concerning and would've been devastating to not get a chance to have a last go at it," senior Baracah Gimei said. "Though we fell short of our goals, the team bond was the strongest I'd ever been a part of, and I was lucky to have had the opportunity to be part of the brotherhood."