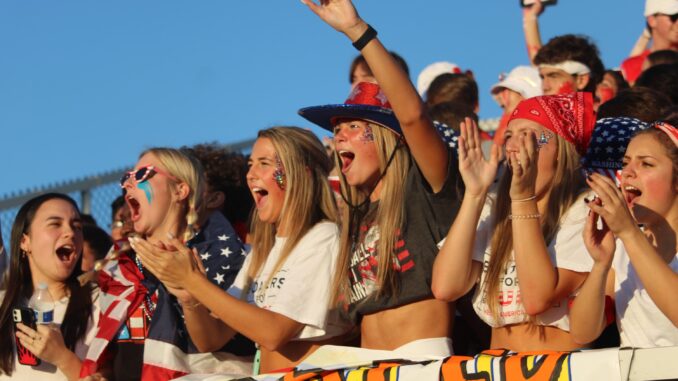 photo credit: Taylor Stewart
For many sports during the 2020-21 school year, the number of spectators that were able to attend their games and competitions was limited. It was particularly disappointing that, because of COVID-19 restrictions, many people weren't allowed to watch the football games in the stands.
Not only was it disappointing for the spectators to be unable to come to games, but it was also upsetting for the football players, cheerleaders and the marching band. However, with the start of the new school year, football Friday nights resumed for all spectators, not just family members.
"It feels great being back in the stands. I missed my whole freshman year, so now I get the full high school experience. I'm just really excited to take in everything and enjoy it while I'm here," sophomore Bobby Drexel said.
The marching band had to split into two bands last year, and it would switch who would play at each home game. For many sophomores, this is the first time they're getting to enjoy certain high school events to the fullest.
"Performing in front of big crowds really makes a difference. I think not having as many people at games last year kind of ruined it. With the student section back, games are 10 times more fun than last year," junior and bass drummer Jason Sims said.
The cheerleaders would usually have cheers and dances prepared to sync with the songs that the marching band would play. Due to the lack of fans that were able to come, there was a lot less energy because there were less fan interactions with the marching band and cheerleaders.
"The student section definitely makes a difference in the energy and the atmosphere of the whole game. Last year, things were more laid back and we definitely didn't prepare a lot of the things we are doing this year, like band dances, having everyone on the team on the track, flags and stunting," junior cheerleader Solee Lim said.
For the players on the field, having or not having an audience can make a huge difference in their performance as well. Some players need that adrenaline from a huge crowd cheering, and going from a year where you could have very few spectators to having a full stadium is a tremendous transition.
"Playing in front of a crowd as big as ours is pretty exciting and the nerves you get while walking towards the stadium is like something from a movie. Compared to last year, it's crazy how much of a difference there is within the numbers of people that attend," senior and outside linebacker Ryan Sevilla said.