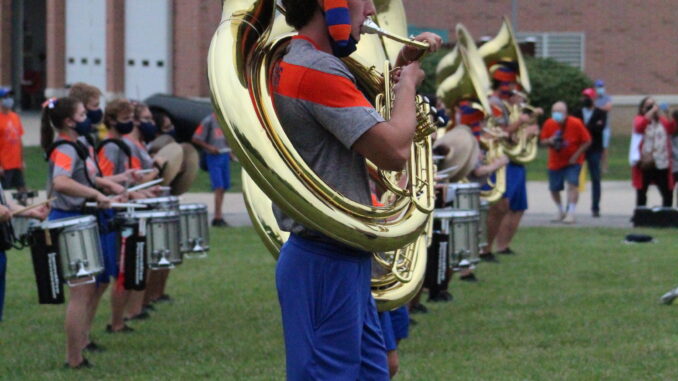 photo: Maggie Van Fleet
The marching band held the Back Together Again performance on Sept. 25. The performance was highly anticipated by fans, being the first performance to feature the whole band.
The Back Together Again performance was the first performance to be open to the public with safety restrictions in place to protect the audience and the performers from coronavirus. Safety restrictions were implemented to protect both the band and the audience.
"We utilized the athletic department policies of set in place seating, a ticket cap, social distancing and, of course, utilizing the school district policies and State of Ohio health and safety protocols," band teacher and marching band director Ishbah Cox said.
Preparations for the performance commenced weeks before the event. The band practiced both drill and music in school and after school in order to be ready for the performance.
The band practiced as a full band for the first time during the marching season. The band had to make adjustments to the marching drill to accommodate for the full band performing, however changes were made for the show to run smoothly.
The performance featured sets played during football games and crowd favorite songs. The Back Together Again performance featured several songs such as: "Level of Concern", "Born in the USA", "Football Friday Nite Theme", "The Hey Song" and "Boogie Fever".
"We performed this year's pregame show, 'We Want Drumline' and our first halftime show. We concluded our performance with the crowd favorite tunes of The Kids Aren't Alright, Long Train Runnin' and September," Cox said.
The Back Together Again performance was created as an opportunity to bring the full band back to the general public. Coronavirus has kept the band split apart when performing at football games.
"We wanted to have the opportunity to safely bring the band and the fans together at least once this year. Things worked out and we were able to make this happen," Cox said. "The band students performed well, and the fans had a great time at our performance."
The Back Together Again performance was the debut of the full Olentangy Orange Marching Band. The audience was appreciative of the musical display performed by the band.
"It felt good to perform as a whole band," trombone player and sophomore marching band member Jackson Keyes said. "It was more fun to be a whole band than to be split into two smaller bands."