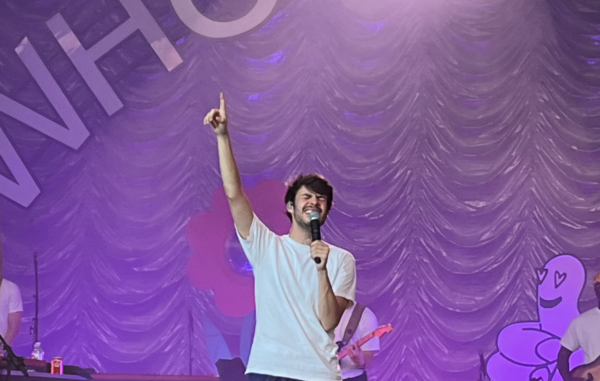 photo credit: emily zimpfer
Indie pop artist, Alexander O'Connor, is a beloved singer who is also known as Rex Orange County. He has four popular albums including one that was released this year. On June 1, news broke that he allegedly sexually assaulted one girl twice in one day and then the same girl four times the next day.
Alexander O'Connor is 24 years old, was born in the UK and has released many popular songs like "Sunflower", "Pluto projector" and "Best Friend". His first album was released in 2015 called "Bcos U Will Never B Free."
"His songs are well written and many people relate to them. His concert was so fun and his stage setup was really good. His situation is tragic and obviously the public isn't sure if it is true yet and to me it doesn't make sense. One of his songs is about women's empowerment so why do that if you wrote about it," sophomore Ava Harrington said.
His career took a turn for the worst when he was charged for six counts of sexual assault. He allegedly assaulted a young woman once in a cab and then three times in his home at Notting Hill in London. He supposedly assaulted her twice the day before as well.
"O'Connor is shocked by the allegations that he denies and looks forward to clearing his name in court," according to vulture.com
The singer canceled his 2022 World Tour due to "personal circumstances." This cancellation means that he won't be performing in Australia, New Zealand or Europe. He said that Aug. 13 would be his last show.
"I'm disappointed because he was such a good artist. I loved all of his songs but hearing that made me dislike him. He also just released a new song on Aug. 9 but it probably won't get as many views," sophomore Dua Rahim said.
His trial date is set to be Jan. 3 and the victim he assaulted was reported to be over the age of 16. The victim's name is not being disclosed to the public as of right now. He pled not guilty to all six charges.
"Right now I am no longer listening to his music until he is proven innocent. Then, I will listen to him again," Harrington said.
Although fans love his music, they were ashamed by his decisions made on June 1. It was reported that even one removed a tattoo they had of him. The fans' backlash and sadness are controversial to some as they believe that it might not be fair to the victims because they are the ones who suffer the most.
"After the news broke earlier this week, fans of Rex Orange County started posting on TikTok expressing their distress. Other fans of his have started to record themselves burning their merchandise," according to thetab.com.
O'Connor lost many fans when the news was released. It is unclear whether he will continue his career as Rex Orange County. However, this event will put a stop to any future albums from them for some time.