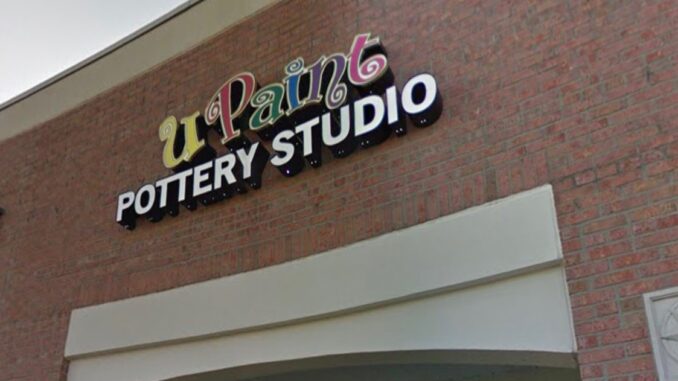 photo credit: Valentina Urbaez
Since the beginning of March 2020 there's been a ceaseless amount of coverage over the widespread virus, COVID-19. It swiftly bounced from country to country and took over as much territory as it could reach. Therefore, doors closed in a matter of weeks. One by one companies turned their backs, pushed their masks up and put a halt to the business indefinitely. This domino effect rippled until the small businesses of the community were forced to do the same.
uPaint Pottery Studio, a small family-friendly, walk-in studio was one of the many affected companies. Moving out from its original base in Indiana, uPaint opened in Polaris in just 2018. Two years of success and another two of uncertainty. Owner and manager Natosha Henthorn had to get creative during this time if she wanted to keep her studio and loyal customers.
"We followed the direction and guidelines put in place by the Ohio Governor. We first reopened our door to the public around the middle of May 2020 and were only operating at half capacity," Henthorn said.
This was an unexpected routine that many if not all businesses still open would follow every day.
"Meanwhile, we were still offering our Pottery – to – Go option, which allowed our customers to take pieces home and paint at home and then bring them back to have them fired. We remained at half capacity for about three to four months then slowly opened our studio to full capacity while still requiring face coverings and encouraged customers to remain six feet apart," Henthorn said.
Taking advantage of the few options available, Henthorn and the uPaint team made it work.
"We ended up closing our doors during quarantine and the shutdown. We were closed for about two and a half months. Before closing our doors in March 2020 we offered only pottery to go, Customers placed their orders online and then we called them to pick up their orders which were placed right outside our studio doors (contactless pick-up). When they were ready to drop off their pottery they sat it at the door and we would bring it in and then fire it. When their pieces were ready for pick up we would call them and let them know to call us when they were ready to pick it up and we sat their finished pieces outside the door," Henthorn said.
Adapting to the shift in everyday life, the new changes came with its challenges.
"We had to make a lot of changes when COVID first hit. We are an in-person studio that allows our customers to come paint pottery and enjoy the experience we create for them. So when COVID hit, we quickly had to turn our in-studio business into something our customers could enjoy at home. Which meant creating an online catalog and offering pottery to go," Henthorn said.
Adjusting the studio to fit new protocols yet keeping expectations on how to stay open, realistic, was an important part of the transition.
"Since reopening, we had to make some adjustments to our (already small) studio space that allowed people to be socially distant while still offering enough seats for those who wanted to stay and paint with us."
A key part of this was keeping the customers satisfied with their new experience. Luckily for her and the team, they were successful in accomplishing just that. "We are now pretty much back to our 'normal' (pre-Covid)," Henthorn said.
Finding the courage to begin the reopening process given the risks was not an easy task. The uPaint team made sure to tread lightly as they were finding safer ways to maintain their business in the current state of the pandemic.
"Again, we followed a lot of the guidance given by the Governor. I think taking baby steps to reopening was helpful for not only myself but also the staff. Operating at half capacity for a few months really helped us get an idea of how things were going to go," Henthorn said.
The support being granted to the studio was a propelling factor to Henthorn and the team wanting to push through with their plans.
"Honestly, having so many customers support us during this rough time was so helpful. It gave us hope every day we could make it through this hardship. We are so grateful for all our customers, and their continued support with our small business. We would not be here today without them. Many small businesses did not survive the shutdown and we are so thankful we were able to come out even stronger," Henthorn said.
Seeing other businesses collapse around would have continued to fuel their doubts about their studio. Instead it gave them the motivation necessary to keep their craft alive.
Sophomore, Brooke McPherson, experienced the studio adjustments firsthand when she'd come in and out over the summer. Quarantining with little options left of what families could do to stay entertained, McPherson and her family turned to the studio.
"We were just kinda bored one day and decided to go in just to see and we came out with our paint and pottery. It was really easy. We just went in, chose what we wanted, and they gave us little cups with paint," McPherson said.
A quick and efficient check out is what kept customers safe and then wanting to come back for more pieces.
"That was the first time we had checked it out and so once we were done painting we dropped it off and they glazed it for us. They ended up really nice," McPherson said.
With COVID taking away the studio's ability to function normally, the way Henthorn and the uPaint team managed this ongoing situation kept the business running. The customers appreciated what they were doing and spread the word. Coming back from quarantine, the studio has reached much more success.