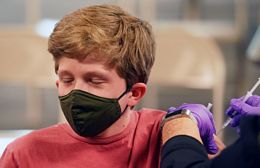 permission to print image: Gale
Since early 2020 when the pandemic started, there was talk and speculation about a vaccine being made to combat the virus. In December of 2020, Pfizer-BioNTech developed the first vaccine to take a stand against the COVID-19 virus.
The first people to receive the vaccine were essential workers such as nurses and teachers, along with the elderly. Teachers at the high school were some of the first people to get the vaccines to protect their students and themselves.
Then, in late March, the vaccine was opened to kids 16 and up in states that have the resources to provide them. Ohio was one of the first states to distribute vaccines to this age range; some of the people have already received the vaccine or are planning to.
Sophomore Camden DeShazer has received the first dose of the Pfizer vaccine and is getting the second shortly.
"I feel the vaccine is very necessary and important for the safety of the students and staff at the school."
While many people are happy to get the vaccine, there are some people who have concerns and are questioning the vaccine because of the short time it was made in.
"Most people are for the vaccine just so they can get back to a normal life as soon as possible but there's definitely some people who don't think it is all that necessary," Sophomore Noah Taylor who has received the COVID vaccine said.
Many people's concerns with the vaccine are coming from the side effects after the shots. A common symptom after receiving the vaccine is flu-like symptoms much like COVID but only for around two days.
This threat of being sick for days after the vaccine is scaring some people away from it. Both DeShazer and Taylor have not received any symptoms after their shots, and both said they were perfectly fine. They both registered to get the vaccine by making an appointment to clinics that were giving out the covid vaccine such as places like Meijer. Once they received the first dose, they came in a little over two weeks later and received the second dose.
The vaccine has been a crucial part in stopping the spread of COVID-19; teachers along with students receiving the vaccine at Orange have severely decreased the number of cases and the spread of the virus throughout the school.