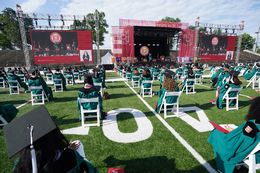 permission to print image: Gale
Graduation is quickly approaching, with seniors having only a few weeks left in school. Alongside the various finals and AP tests that wrap up the last classes of high school, different senior events have been planned to send the seniors off in a fun, positive way. Though COVID has changed what many of the senior events look like, planning senior events has continued and evolved to ensure a proper send off to the class that has lost so much.
Seniors have already attended their Thanksgiving lunch, as well as the recent pancake breakfast that was held on the turf of Pioneer Field.
Senior Class Cabinet Adviser Laura Calland described the goal of the events that have occurred so far.
"We are focussing on the safety of the children, and we really want to honor and give the students as much as we're able to," Calland said.
Kari Phillips, another senior class cabinet adviser, described the difficulties that are involved with planning senior events in the pandemic.
"Class cabinet and the advisers have met on several occasions, and we're really just gauging interest in what the seniors want. Then we've been meeting with Mr Smith, and he's met with other administrators from Central Office of what we can and cannot do," Phillips said.
There are more events planned for May, as the clap out and class picnic are right around the corner for seniors to look forward to.
Class cabinet member Leena Eltilib described her role in planning the pancake breakfast, as well as what can be looked forward to for seniors.
"So, we just had senior pancake breakfast on Monday, and I did the little mini goody bags for all of the seniors and relatives. And then next up we're planning for graduation and doing the parade," Eltilib said.
Phillips also showed her excitement for the upcoming picnic, expanding upon what is in store for the seniors.
"Senior picnic is on May 20. Several food trucks including maybe Kona Ice (no guarantees) have all been brought up for the food. And then we're also bringing in Super Games, and they're bringing a slip and slide, and probably one other blow-up game," Phillips said, "The senior video should be done at that point, and we're going to view that as a class together as well."
At the end of all the celebration comes graduation, which will be distinctly different from years past with the parade, sunset event and final drive thru graduation on May 22.
Phillips weighed in on her perspective of what seniors are getting this year that other classes haven't.
"The senior class is getting more than what is usually done at least in terms of graduation. It's not a traditional graduation, and I understand that's disappointing. However, they are getting three parts (Sunset Salute, Commencement Walk and Virtual Graduation) instead of one, all on graduation weekend," Phillips said.
Calland may have put it best when describing what she was most looking forward to as the year comes to an end and the seniors move on.
"I'm most looking forward to relaxing at senior picnic with cool kids and celebrating everyone in the graduation drive thru," she said.