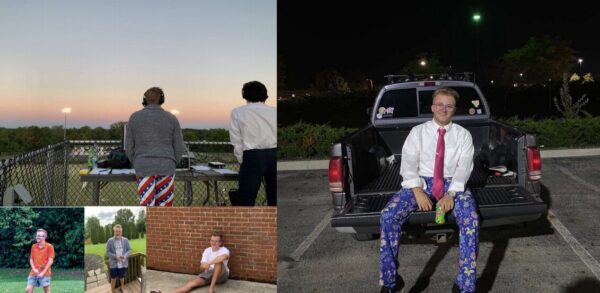 design: Sam Amonette
permission to print photos: Tannor Lambert
Sports are a great part of life, and movies are too. So when those two things come together, wow there are some fireworks. The re-watch ability with sports comedies is what helps make them so great. With biopic sports movies, the watch again enjoyment isn't as great. Adam Sandler and Will Ferrell are so good at watch again ability.
I am going to rank the top five sports movies overall and rank them based on my overall enjoyment of the movie, not how they actually fared at the box office. No. 5 is "Dodgeball: A True Underdog Story" with Ben Stiller and Vince Vaughn. Vaughn's character Peter La Fluer has to win a huge dodgeball tournament played in Las Vegas and aired nationally on ESPN 8 The Ocho. But Globo Gym has a team too, led by White Goodman (Ben Stiller), and they have to play each other in the final. La Fluer's team gets the upset helped by the Coaching of Patches O'houlihan (Rip Torn) who used to be an All-world dodgeball player.
No. 4 is Adam Sandler's "The Longest Yard". The Mean Machine is a fun story about Paul Crewe who is in jail for point shaving in a NFL football game for gambling purposes. He goes to a jail in Texas where the team of prisoners overcomes the disgruntled Warden and the team of prison guards. It has "Adam Sandler" moments of comedy, but there is a lesson to be learned too. The heart of Caretaker (Chris Rock) for the team that he loved is a great message.
No. 3 is "Kicking and Screaming", with Will Ferrell as Coach Phil Weston the coffee addicted vitamin seller who is competing against his Dad in the local soccer league. Buck Westin (Robert Duval) and Mike Ditka (Mike Ditka) are neighbors and Ditka joins Phil's coaching staff and their goal is to beat Buck at his own game. In the end with a recruited team, Phil Weston beats his dad and wins the soccer league with his sons' goal at the end of the game.
No. 2 is 2004's "Friday Night Lights". There is nothing quite like the Permian Panthers football team including the town of Odessa and Texas High school football as a whole. The movie has such great characters like Coach Gary Gaines (Billy Bob Thorton), Mike Winchell (Lucas Black) and John Aubrey (Brad Leland). It is a great story about a football team that has a lot of adversity to overcome, and they just fall short. It is a great lesson and can definitely pull on someone's heart strings.
And finally, No. 1, without question, has to be "Talladega Nights the Ballad of Ricky Bobby". The story of NASCAR sensation Ricky Bobby who drives the No. 26 Wonder Bread car and his teammate Cal Naughton Jr. (John C. Riley) is in the No. 47 Old Spice car. The two are unstoppable on the race track until Jean Gerard (Sacha Baron Cohen) comes onto the scene. As a French Formula One driver, he takes NASCAR by storm and takes over as the best driver. It forces Ricky Bobby to become a better man and learn that it's not all about being first. He also has to come to the realization that he races for himself and not to make others proud. In the end, Girard and Bobby wreck, but Ricky beats him in a foot race to win at Talladega. One other cool thing about Ricky Bobby is in "Cars 3", where Lightning McQueen's friends Cal Weathers and Bobby Swift are named after characters from Talladega Nights. An overall 10/10 movie.