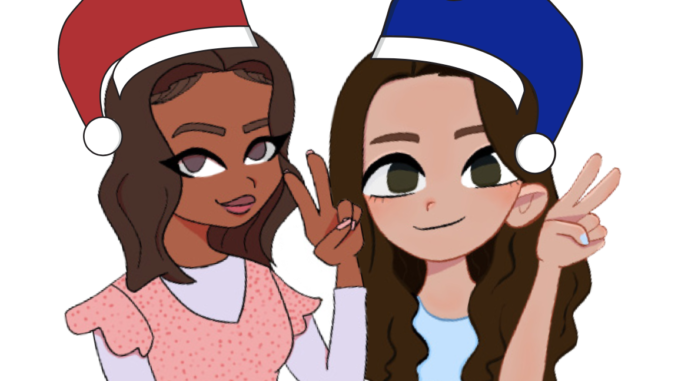 design: Natalia Favila Inacua
illustration: Ainsley Robare and Natalia Favila Inacua
The window was cold and numbed our hands to the touch, but it couldn't stop my cousin and I from getting as close to it as possible. Our grandpa laid on the other side resting, and we watched him not knowing how many moments we had left.
A few days before, my mom told me the news of how my diabetic grandfather got a cut, and though it seems insignificant, his health conditions only prolonged his healing process. He was sent to the ER, and my mom alluded to the idea that he only had a week left to live.
Fortunately, my grandpa's strong will let him cheat death a third time (he had previously survived COVID-19 and a heart attack where he was resuscitated), and he has been making progress in the hospital. But the period of uncertainty where I didn't know how everything was going to turn out made me rethink how I chose to spend my time over the years.
My grandpa helped raise me as a child while my dad was in the hospital, and through our moments spent together, we developed a very close-knit bond. Although as the years went by and his health conditions worsened, I grew apart from him and no longer made an effort to interact with him; I feared I was only a bother to him and didn't want to cause any additional pain.
I'm disappointed in myself that it took this experience for me to realize how absurd my behavior was. This was a person who put my needs before his own when he has been in constant pain for years. I let myself lose our connection and our bond that taught me so much.
My best memories and lessons can be attributed to him; he taught me all about bird watching, how to cook Ukrainian dishes he ate when he was young and how to respect and care for people.
There are so many other memories I could've made and lessons I could have learned if I didn't feed into my own self-doubt. But, the lesson I have learned from all of this is to never let insecurity ruin connection.
Staying close and connected with loved ones, especially older family, is such an important part of learning and growing up. These people have experienced a long life, and though they can seem frustrated or in misery, the lessons and experience they carry with them should never be disregarded.
Life span is an unsettling concept; we don't know when we'll live our last day and in just an instant, everything could be over before we know it. Elderly people face this consistently because their time is already limited.
We must cherish every moment spent with them, appreciate every lesson they teach and preserve their memory once they're gone. Their time is limited and we must never take experiences with them for granted because those experiences may come to an end sooner then we'd have hoped.
My grandpa has influenced my life in so many ways, and I want him to continue to do so for as long as he is able. Our connection has been my guide through life, and I could not be where I am without him.