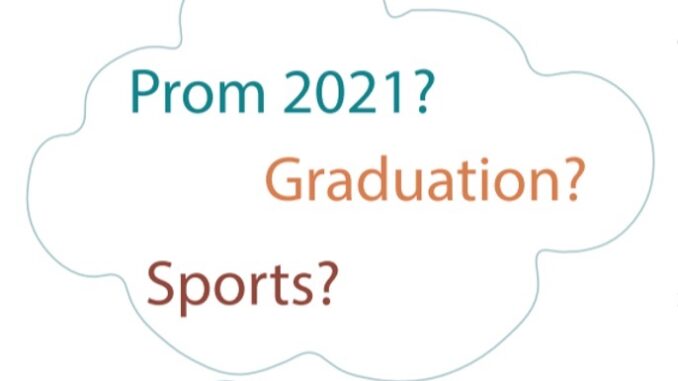 design: Abby Robinson
A tornado of confusion and missing assignments, is one way to describe the messy start of this school year. Student's have to deal with a lot of new policies and hardships that make the school year a lot more intimidating and confusing. However, students of the Olentangy Local Schools District and the principal of the high school have many opinions and predictions when it comes to how to handle the second semester.
The hybrid system that the district established has had a bit of controversy yet is also seen as effective. The hybrid schedule is effective in the ways of comfort and ease, but students can easily manipulate it.
"I like how it's a hybrid, it doesn't put as much stress on the students but i also think that most students think of our at home days as days off. It's effective because students get to learn at their own comfort and style and get to go in and ask questions they've had the day prior," Olentangy Orange junior, Annaliese Mincer said.
Even though students can sometimes misuse these "hybrid" days as a day off a lot of other students tend to find comfort and ease with the "days off" in order to utilize it to get work done at a more efficient pace.
"I think the school board did a good job on coming up with the current school plan. We get to have a virtual day of teaching, then get to ask questions the following day. The immense pressure they were feeling must not have been easy for them," Olentangy High School senior, Vera Quarsh said.
A lot of people seem to be concerned about how the district might handle the second semester. It is still a mystery on what's to come and at the time, it's still a very complicated situation which just requires time.
"It is very difficult to say. There is still a great deal of uncertainty as it pertains to the virus, possible vaccinations being ready, the impact of the flu season, the effect of colder weather bringing people back inside, etc. All of these factors are unpredictable right now, so we will just take things as they come. Regardless, the district will follow the guidance of health professionals and do what is in the best interest of everyone's safety," Principal Trond Smith said.
However, in relation to school sports, there is a high probability of the school district to continue the school sports with the current system that's in place for the second semester.
"The fall sports have been a success to this point, so we are hopeful to be able to continue to find ways for our student-athletes to compete. Mask-wearing and all of the other components that are a part of the safety plan will need to continue to be adhered to in order to continue with our sports programs. We miss the Pioneer Pit and the student support, however. While we are hopeful that we can increase our crowd capacity at some point, it doesn't appear that will happen anytime soon," Smith said.
The most pressing matter that most students are interested in is the possibility of there still being a prom. To most students there is little hope of there even being one this year.
"I don't think there will be a prom next semester because I don't believe there will be a homecoming and even then, nothing is going to be different," Olentangy Liberty junior Callie Tormasi said.
"Honestly [I don't know] how they are going to do prom if a cure isn't found by then or if things haven't calmed down by then. And if there is and we have to distance, I don't think many people will go." Quarsh said.
Luckily, all hope isn't entirely lost for this year's prom. The district is still planning and working to have a prom for our seniors and juniors.
"Prom is still several months away, so much can happen between now and then. Like most everything else, that will be dictated by where we are with the virus at the point and what we are permitted to do by our state and local health agencies. I am certainly hopeful the spring will bring more opportunities to have a traditional end of the school year," Olentangy Orange High School principal, Mr. Smith said.
At the end of the day, next semester is still a long way to go, and there are still a lot of factors and possibilities that can be taken into account on how the district might handle things. The students just need to stay hopeful and safe in order for the district to continue pushing for a good end of the year. All the district needs is a little time.