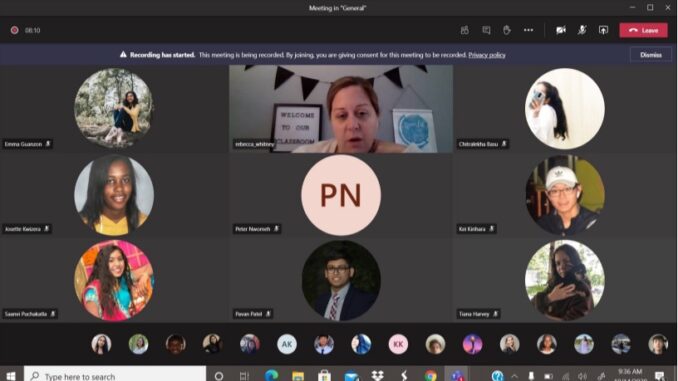 design: Carissa Long
Envision a world where students are able to attend school from the comfort of their bedroom, draped in blankets and surrounded by an almost infinite supply of snacks. This imagination becomes reality for Committed Distance Learning (CDL) students. This year, as a response to COVID-19, the Olentangy Local School District allowed students to choose between an online learning program and a hybrid program consisting of in-person and online classes on alternating days.
CDL, the online learning program, differs from past schedules. It starts at 7:30 a.m. and ends at 2:35 p.m. There are six class periods before lunch, followed by the seventh and final period and then time for office hours and independent work time, where students are able to consult their teachers if they require some assistance with the class material.
For senior Carly Casner, who is enrolled in the CDL program, her last year of high school differs from what is typically expected.
"It has been a little strange having everything online. We got a taste of it last year, but this year, it's being run a little different. With online I've already figured out that I need to really work on my time management skills or I'm going to fall behind," Casner said.
Freshman Maggie Peng is entering high school as an online student. "Now that my freshman year is online, it doesn't feel too different than last year-I'm just learning more difficult material. Not that it's a bad thing, but I don't feel as if I'm getting the 'high school experience', although personally I feel much more comfortable at home during these circumstances," Peng said.
CDL offers many benefits, such as having more control over individual schedules. "Sure you go to online classes, but you have plenty of free time to work at your own pace which has been beneficial for my personal learning," Peng said. This freedom to work and learn with a personalized plan can allow for students to improve academically.
However, online classes come with disadvantages. "There is less social interaction, trouble being involved with extracurricular activities, difficulty keeping track of assignments and their due dates, and a little more homework in general for every class," Casner said. Time management is important, as students must keep up with their schoolwork.
Overall, these students are beginning to adjust to virtual learning. "The teachers for the most part are very knowledgeable and are encouraging us. They've also been a little lenient with deadlines for the beginning of the year as we are getting adjusted," Casner said.
According to AP Biology teacher Sarah Palmer, teachers volunteered to teach online. "It's possible that in some cases, if the student and teacher ratios didn't match up perfectly, some teachers have been asked to teach in the buildings instead or may have been asked to switch to virtual," Palmer said.
Palmer teaches at Olentangy High School, but with CDL, she now teaches students from all four high schools, which contributes to this new experience. "I have a chance to work with students and teachers I would have never otherwise met, and that is really cool," Palmer said.
Just as there are challenges for virtual students, there are challenges for CDL teachers. "I think the challenges that come with CDL are that it is a little more difficult to gauge student understanding and if they are engaged or not. The biggest difficulties come when the technology that we are reliant upon doesn't work correctly. It is oftentimes problems with the programs and platforms outside the control of OLSD, but when everything is virtual it can be a big problem," Palmer said.
This school year has definitely differed from past years, as it is heavily influenced by an ongoing global pandemic that led to an option for online learning. Even through all the potential difficulties that arise with a brand new learning environment, these students will power through and continue to learn and grow. After all, this is the life of a committed distance learner.