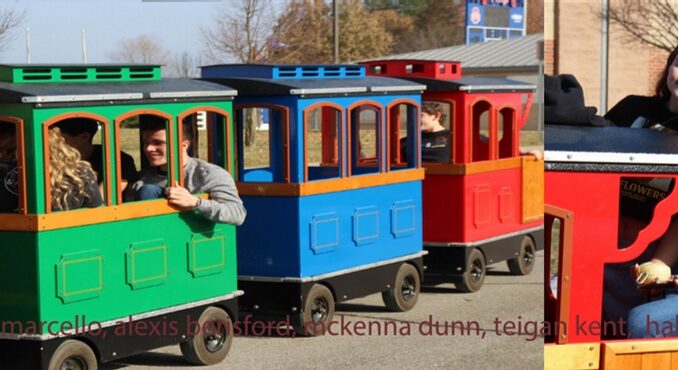 design: Sam Amonette
photos: Maggie Van Fleet
Even in the midst of a chaotic pandemic, there is still a time to give thanks. On December 3rd Senior Class Cabinet will be hosting the annual cherished event of Senior Thanksgiving. There is also a senior class shirt for sale. The deadline is October 29th.
Returning to school during the pandemic meant making adjustments and adapting to a new sense of normalcy for students. Not only have the students had to adjust, but the annual events needed adjusting as well like homecoming, the student section, senior breakfast, senior picnic and graduation. However, even with all the changes, the administration and class cabinet want to give the seniors a memorable final year as much as possible.
"Senior Thanksgiving will definitely look a little different this year due to COVID. However, we've found creative ways to combat the risks," Senior Class Cabinet member and senior Ashley Feucht said.
Senior Class Cabinet had to modify and adapt in order to host the event and also abide by social distancing rules to keep the students safe. For example, the lunch will be divided into two different shifts in order to not infringe on the attendance capacity allowed in the aux gym.
"Fortunately, we are still able to have it," Feucht said, "and Der Dutchman is sill going to be providing the food."
The cabinet's advisers and members have been meeting since August through Microsoft Teams to brainstorm ways to inspire positivity throughout the senior class during this difficult time. Although this isn't a typical senior year, it can still be a memorable one.
"As we have found our new tradition of having the meal at school, much of the core planning of the event tends to be set in terms of using the aux gym and Der Dutchman as caterers," Senior Class Cabinet Adviser Laura Calland said.
In past years, cabinet members have gotten creative with the event. Last year they set up a train from Super Games around the staff parking lot for seniors to ride. There is usually a photo booth decorated differently each year for students to pose and take pictures in. Cabinet members are trying to salvage the booth whilst abiding by social distancing rules-of course.
"Each senior class gets to plan decor ideas and the 'extra' events that enhance the fun and sense of community of the event," Calland said.
The cabinet posts all updated information on anything and everything senior related on their twitter and instagram pages, "oohs2021".
"Even with all that seniors are going through this year with the pandemic, we are hoping to have an even greater role in making this year special," Feucht said.