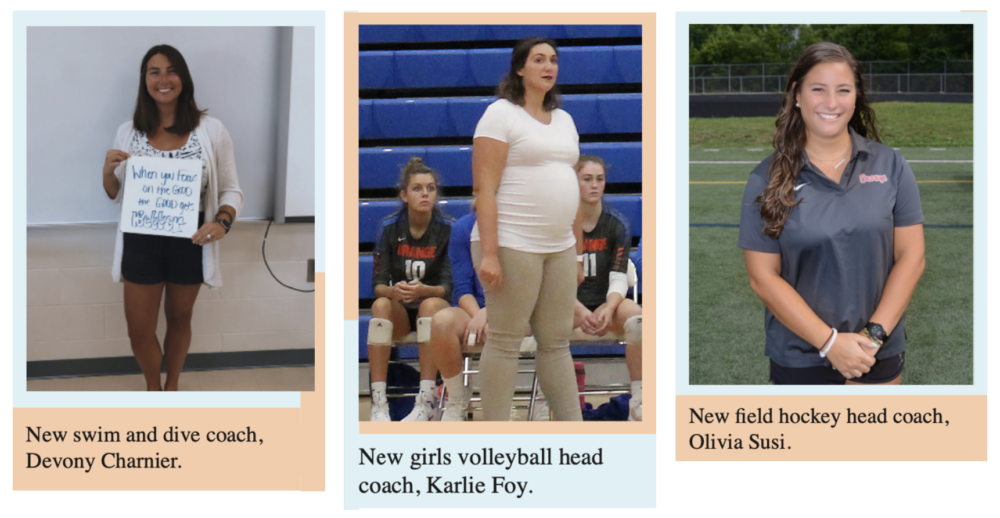 Every school year begins with many new changes, one of them this year being the addition of new coaches into the mix. The school welcomed three new coaches: Karlie Foy, the girls volleyball head coach; Olivia Susi, the field hockey head coach; and Devony Charnier, the coach for the swim and dive team.
Foy was the assistant girls coach at the high school for seven years as well as the head boys volleyball coach for four years. With the girls already knowing Foy from previous years, it was easy for them to get acquainted with her, follow her instructions and grow together as a team.
"The girls grow and develop every day. The team that we have now will be so different from the team we end the season with and I am so excited to watch and be a part of that growth," Foy said.
She was a 2012 graduate of Olentangy Orange and was on the inaugural varsity volleyball team in 2008. She played high school and club all four years of her high school career and decided to stop last minute before college because of two knee injuries.
"As upset as I was to have had those injuries, I am now so grateful for them because it is how I found out I love coaching; I started coaching my freshman year of college and never looked back," Foy said.
Junior Taylor Stewart was a libero for the school's JV volleyball team. She played the sport for eight years.
"Coach Karlie's coaching is perfect for my learning style and she always has us do mental toughness exercises and goal setting. She also always had us earn everything which goes from our practice shirts to jerseys and working for everything brought us closer together as a team," Stewart said.
Susi was welcomed as the new head field hockey coach as a replacement to Maggie Greer who had to leave due to a maternity leave. She had previous coaching experience as the assistant last year at Olentangy Liberty for both their teams.
"The overall culture for the team is different this year and we have been working hard as coaches to encourage the one team mentality. The team has embraced playing for one another rather than themselves," Susi said.
Susi was active in field hockey for 12 years and was also a member of USA Field Hockey's Futures program for three years where she got selected to play at nationals twice. She continued to play at the Division-1 level at Ball State University and decided to take up coaching after.
"I really like the freedom of being able to run the program the way I think is best and coaching the girls allows me to still be involved with the sport and not actually play," Susi said.
Senior Emma-Cait Cogan was on the school's varsity team for 3 years and started playing field hockey her freshman year of high school.
"Coach Olivia incorporated more team dinners and bonding activities which allowed us to build stronger team connections," Cogan said.
Charnier was the new head coach of the swim and dive team. She was the assistant coach for the previous two years and once the head coach left, she decided to apply for the position because of her love for coaching and the team.
"I'm excited for the season and bringing back the pasta parties and team building events because these events really help us get to know each other and become comfortable with one another," Charnier said.
Charnier swam all four years in high school and on a club team during college. Her main goal for the season was to get top three boys and girls placement at the OCC's.
Senior Kayla Fisher swam competitively since she was four years old and had been a part of the schools varsity swim team since freshman year.
"Coach Devoney did a great job coaching and giving us tips on how to become a better swimmer. She did it in a way that builds friendship between us and her and she really finds a way to bond with each individual player," Fisher said.