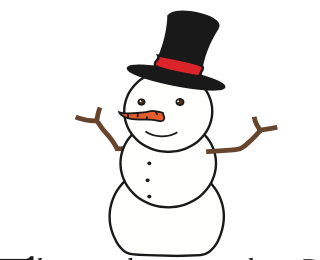 design: Lincoln Hake
Winter break
The second quarter ends on Dec. 16, meaning winter break will begin the day after. Classes restart on Jan. 3.
Many students at OOHS have already started planning their winter break. While some are looking forward to catching up on sleep, others have a packed schedule ahead of them.
"I want to catch up on sleep during winter break. It is so nice being able to just relax and not have to set my alarm for the next morning," sophomore Emma Bass said.
Some people also utilize this special time to travel, whether it's just for fun or to visit family that lives far away. Many travel south during the winter to get away from Ohio's bitter cold weather.
"For winter break I'm going to Disney World with my family to celebrate Christmas. We are staying on the resort and planning on visiting a different park each day," sophomore Taylor Boyd said, "I'm really looking forward to all of the Star Wars rides as well as some of the iconic disney stuff, also buying souvenirs and spending time with my family."
Occasionally, families travel overseas to visit loved ones. Most airports become incredibly busy during these few weeks of the holidays.
"I'm traveling to England. I'm most excited to see my family and the city because I'm going to London. I rarely get to visit England so when I do go it's really exciting to see my family and friends," sophomore Jess Hodginkiss said.
During breaks from school, it is important to spend more time with loved ones. Whether it's your immediate family, friends, or distant relatives, many people have work and school off during these couple of weeks and are available to celebrate.
Midterms
During the last week of the semester and the second quarter, many classes have important midterm exams and projects. This can be a very stressful time for many students.
These exams will begin at 7:20 a.m., and each class has a one hour and 30 minute time block to allow their students to take the tests. There are three exam periods per day on Dec. 14-16, and most students get to go home early.
Some teachers issue projects for their midterms rather than full tests. While some students prefer testing, others like the freedom of midterm projects.
"You read a choice book and then these standards she made and we made a rubric based off of them. You pick your standard you want to focus on, and analyze it," sophomore Alicia Owusu-Ansah said, "I don't find myself to be very stressed about this project."
Some students start to wonder what these exams are really for, and if they are worth all the stress. At the end of the semester, exams are worth about 20 percent of students' grades.
"Midterms are important in my opinion because it's a checkpoint to see what you've been learning and can help you see what areas of a unit you need to relearn," sophomore Emilee Ludwig said.
Different students have personal strategies for studying for midterms and final exams.
"I'm planning on breaking up studying days (ex. On Mondays would be period 1, Tuesdays would be for period 2, then so on) After reviewing those I would go over topics that I struggle with." Ludwig said.
Several teachers from every subject have a variety of ways they go about making their exams. Students must make sure to be prepared for everything that may come at the end of the first semester.