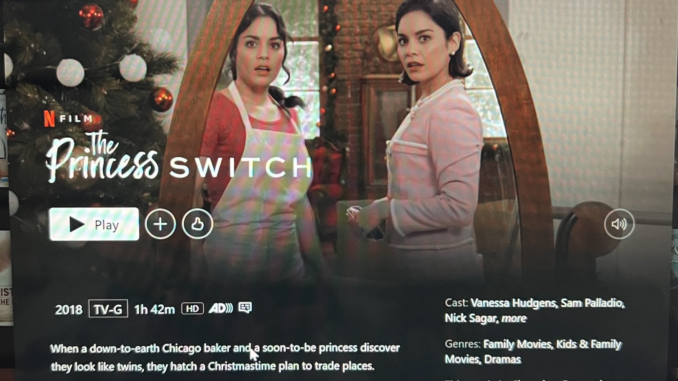 With the winter season in full swing, Hallmark movies are back in the spotlight. With their cheesy romances and cheerful endings, there is surely a Hallmark movie for everyone. There is no better time than the Christmas season to create a top five list (in no particular order) of Hallmark movies I recommend for all types of movie watchers.
"The Princess Switch"
This classic Netflix original movie, released in 2018, kicks off with the main character Stacy, played by Vanessa Hudgens. Stacy owns a bakery with her best friend Kevin, and the opening scene includes Stacy, Kevin, and Kevin's daughter Olivia, accepting an invitation to a baking competition. While preparing for the baking competition, Stacy bumps into the Duchess of Montenegro Margaret.Wanting to escape her royal duties, Lady Margaret has the idea for the two girls to switch, and she offers Stacy a deal. I would rate this movie a four out of five stars due to the various plot twists and lovable characters introduced in the film.
"The Knight Before Christmas"
Yet another Hallmark movie starring Vanessa Hudgens was released in 2019. This movie starts with the main character, Brooke, being approached by a man dressed as a knight who calls himself "Sir Cole". The story follows the two characters trying to return Sir Cole back to his own time. This movie is a must watch over the holiday season, and it leaves the main character and the viewers grappling with an impossible decision. With the heart wrenching romances and personable characters, I would rate this film a four out of five stars.
"Christmas Inheritance"
This Hallmark movie made in 2017, follows the main character Ellen Langford, an ambitious employee dying to inherit her dad's business. Before inheriting the family company, her dad challenges her to deliver a special Christmas card to her father's former business partner in Snow Falls. When a snowstorm leaves Ellen stranded at the town inn, she's forced to find a job in the city, finding romance in the process. I would rate this movie a three out of five stars because while the film does have a contagious amount of Christmas spirit, the plot of the movie itself is very predictable.
"A Christmas Prince"
The 2017 Netflix original follows a junior editor Amber and her climb to success. Finally given a chance to report a big issue, Amber is sent to Aldovia to report on Prince Richard who has to decide whether or not he wants to become king by Christmas Eve. While in the palace, she soon learns there is more to Prince Richard than just his royal title and playboy reputation, but what will happen if the castle finds out who Amber really is? I did enjoy this movie a lot, and the setting and outfits made me wish I could jump through the t.v screen, so I would rate this film a five out of five stars.
The Holiday Calendar
This Hallmark movie starts off with the main character, Abby Sutton, receiving a Christmas advent calendar from her grandpa. Abby is a struggling photographer trying to climb her way to the top. After a couple days of opening her calendar, Abby realizes that the predictions her calendar is giving her may be more realistic than she thought. I liked the characters in this movie and how they incorporated a lot of Christmas traditions, however I didn't find the plot as interesting as the other movies, so I would rate this film a two out of five stars.