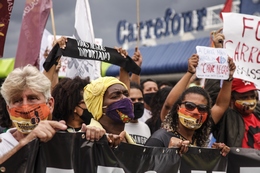 permission to print image: Gale
The high school is incredibly diverse. The school has countless different cultures, ethnicities and religions here, such as nearly 300 Asian Americans, 150 African Americans and 100 Hispanic Americans, and that is something to be celebrated.
Traditionally, the school has hosted a "Multicultural Fair" at the school. In the past, students have run a booth to represent a country, where students would produce foods, crafts and dances that represent the country's culture.
"We do it to celebrate our diversity here at Orange. We are fortunate to have so many people who represent so many different cultures," Student Council Advisor and science teacher Alexandra Van Echo said.
However, it is almost impossible to discuss any school event without looking at it through a COVID-19 lens. It's hard to have a fair when people aren't allowed to gather in large groups.
"Normally we have it in the Aux Gym, but obviously we can't this year," Van Echo said
The Black Empowerment Club recently had a successful way of turning an assembly celebrating black history and culture into a video. So the student council is attempting to recreate this.
"We wanted to do something like the black history video. We wanted to make a presentation," Van Echo said.
Like every year, they wanted the event to be student led, and have the students themselves be the ones sharing their culture.
"We made a Google Form for people to submit to The Juice, so people who want to can submit videos that represent their culture and country," Junior President of Student Council Varsha Venkateshwara said.
This would have allowed people who are passionate about their culture to share it with the rest of the school. However, due to a lack of interest, the event will not be happening this year.
"We didn't really have any submissions," Van Echo said.