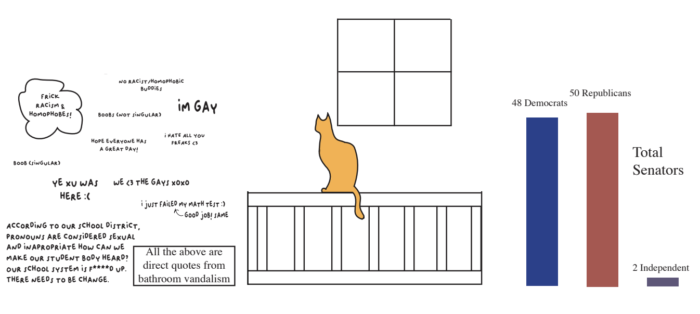 design and illustration: Makenna Shrager
Restroom Wreckage
School bathrooms are something that students, teachers, guests and other faculty have to deal with every day. Hundreds of people are constantly coming in and out of them every day, which leads to these bathrooms getting messy.
Recently, the state of the school bathrooms has been going downhill. There is constant vandalism to the bathrooms students have to use every day.
"Unfortunately, a few of our restrooms have seen an uptick in vandalism and ​graffiti," Principal Trond Smith said. "It's destructive, disrespectful and makes it inconvenient for those who are using the restroom for its intended purpose."
There are many varying punishments for students who are caught vandalizing or destroying these restrooms, and they vary in their severity.
"School consequences can range anywhere up to 10 days of suspension with a recommendation for expulsion in the most serious cases, as well as legal charges pressed. Students may also be financially responsible for any damage they create," Smith said.
Smith reminds students to respect all school property and bathrooms, and that there are people who will have to clean and fix the destruction students cause. It is the home of everyone in the school, which means that all students need to help take care of it.
Cat Burglars
While most of the time its chips stolen from the lunch room or a pencil from the teachers' desk, the stolen cat situation at the high school has everybody's head turning.
Students enrolled in Anatomy participated in a cat dissection in February. And some people took this as an opportunity to take home dead cats.
"Four cats were stolen. It happened right before we started the cat dissection in February," Anatomy Teacher Tammy Sensibaugh said.
While there is no clear answer as to who stole the cats, when, and how, Sensibaugh has some ideas on how this "catnapping" took place.
"Kids are here after school hours for athletics and on weekends. The academic wing is not always locked down. Thus, kids can come and go," Sensibaugh said. "When a custodian cleans our room, once in a blue moon the room will not be locked upon completion."
Sensibaugh said she will make sure that in the future all cabinets holding these cats will be locked. This is the first time it has happened to her, but she does not expect it to happen again.
Jackson for Judge
With a recent vacancy in the Supreme Court, President Joe Biden had a big decision to make: who will be up to take this spot.
Out of many unofficial candidates, that could have potentially filled this vacancy, Biden announced on Feb. 25 that Judge Ketanji Jackson is his nominee, according to whitehouse.gov.
"The reason judge Jackson is the leading candidate is because she was just nominated and confirmed to the appellate court," Social Studies Teacher John Carmichael said. "More Supreme Court judges have come from that appellate court than anywhere else."
If Judge Jackson is in fact voted into the Supreme Court, she will be the first black woman to sit in this position, which is a very important event.
"Biden has said on the campaign trail that he's naming a black woman," Carmichael said. "Biden said we've never had a black woman on the court, and it's long overdue."
In order for Jackson to get confirmed, she must be voted in by the Senate, which requires a simple majority of 51 votes, according to supremecourt.gov. Many believe her hearing is set to start Mar. 21, according to rollcall.com
While Jackson is a very important choice as the nominee, Carmichael said that her confirmation into the Supreme Court will not upset the Republicans majority in the court.