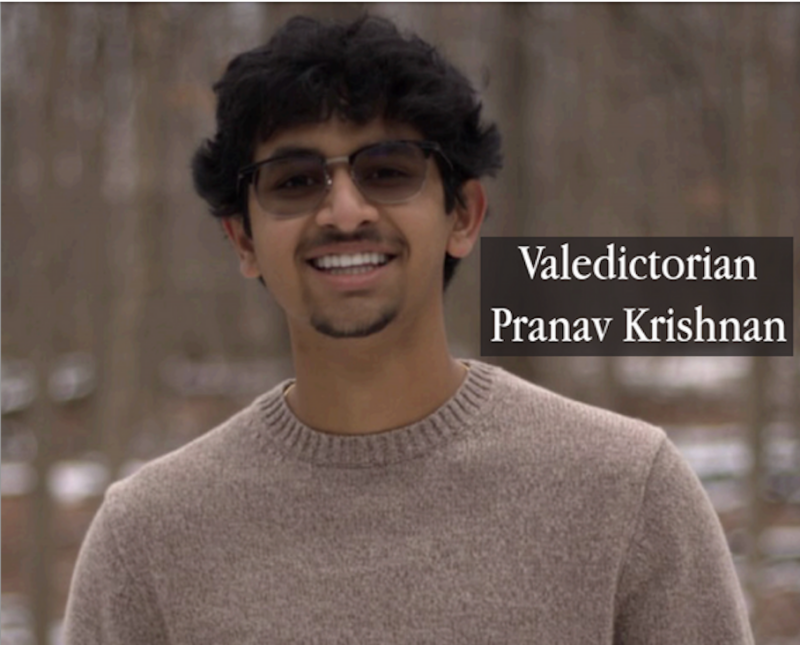 design: Carissa Long
permission to print photo: Pranav Krishnan
As the school year comes to a close, many of the seniors from the Class of 2021 are finalizing their college decisions, preparing for AP exams, and battling major senioritis. Despite the difficulties of COVID-19, these seniors have managed to continue to succeed, and the hard work that has taken place these past four years is preparing these students to succeed in their plans after graduation. One of these seniors is Pranav Krishnan, who has been named the valedictorian this school year.
Traditionally, high schools will select a valedictorian based on criteria that qualifies them as a student with the highest academic standing among their graduating class. Typically, the method is based on the student with the highest grade point average. Krishnan has worked diligently throughout high school and has been very involved in a wide range of extracurricular activities, so his behavior and GPA of 4.56 reflect this title that has been awarded to him.
After graduation, Krishnan plans to attend a four-year institution and is still deciding between a few well-known institutions. "I'm currently deciding between the University of Pennsylvania, Duke, Vanderbilt and UNC Chapel Hill," Krishnan said. In the future, he plans to major in computational biology and statistics. But for now, he is focused on the remainder of his high school career and finishing strong.
When it comes to extracurriculars, he has participated in a variety of different activities. "I've been involved with Science Club, Science Olympiad, Model United Nations, and Medical Club. I've also played four years of varsity tennis and interned at a cancer laboratory for over a year and a half," Krishnan said. Unfortunately, COVID-19 may have posed as an obstacle to his engagement in these activities.
There were quite a few challenges presented by the introduction of COVID-19 in terms of participating in extracurriculars, but Krishnan has been able to overcome them. "Extracurricular activities were implemented much differently and many such activities became virtual. Adapting to the change took a while, but it soon became the new norm for me," Krishnan said.
People often look back at their high school years with a certain fondness, remembering the memorable experiences they've had. They may have even had teachers or classes that have left favorable impressions that will influence them for the rest of their lives. "My favorite class would have to be Mr. Williams' AP Research class," Krishnan said. Although he has not graduated yet, taking this course has given him valuable memories.
English teacher Tyler Williams also has a lot to say about Krishnan. "Pranav is the epitome of an AP student. He is internally motivated, curious, diligent and a team player. He is so thoughtful that over the summer, he sent me a letter in the mail to my home address where he thanked me for all that I have done for him while also letting me know how much he has grown from taking my class. This is just one example of how he continually goes above and beyond expectations," Williams said.
Krishnan's work ethic has been proved through his title as valedictorian, but he has also shown it through his success in school. "Pranav has a very solid work ethic. I had him in my AP Research class, which is a very student-driven course. Pranav excelled in this course since he is so internally motivated. His curiosity is a driving force for him, and this led to him being very successful in this class," Williams said.
Being a senior is not easy, and so Krishnan has a few words of advice for those who will face their last year of high school in the fall. "If you work hard first semester, second semester is a breeze," Krishnan said. Seniors still must complete their classwork and exams even if they may have already decided on their future plans by the end of the first semester, so this suggestion will help them to endure the effects of senioritis.
Krishnan is able look forward to graduation in May, and his work ethic will continue to lead him to success long after that. As he finalizes his decision on which university to attend, he will be welcomed in the fall as a college student and keep flourishing.