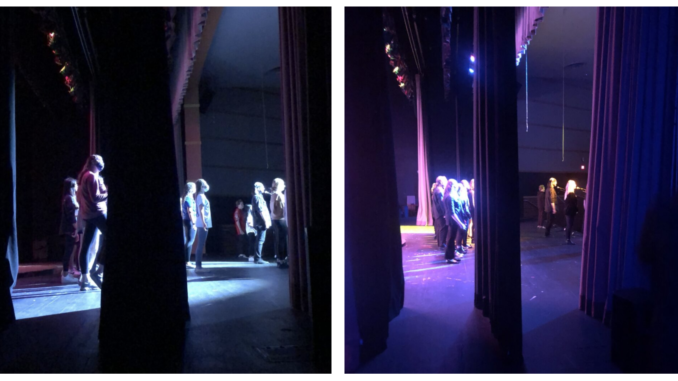 photo credit: Valentina Urbaez
Theater and choir students banded together to put on an hour and a half long performance, only having had one rehearsal with everyone involved to pull everything together and put on two shows the following day. Music Theatre International (MTI) gave performing arts companies all around the world the chance to come together after COVID-19 and bring live art back to where it had been lost with a show called, All Together Now.
The shows were on Nov. 13, and the students performed at 2 p.m. and again at 7 p.m., raising over $3300.
"ATN is a musical revue that was made available to theaters all across the world free of charge from a company called Music Theatre International as a way for theaters to make back money after ticket sale losses due to COVID-19. MTI gave us 15 different song slots and within each song slot you could choose from three different songs and create your own program," Theater director Cathy Swain-Abrams said.
These shows were made possible with not only the help and direction of Swain-Abrams and choir director Cherie Brooks, but the actual students who were involved backstage.
"I was part of the sound crew. I helped with setting up mics, figuring out with Ayden Gardner [a sophomore on the sound crew], the people who are using which mic in what song and how many they're using. We also had to figure out how to balance out the speakers backstage," sophomore Avery Dennis said.
ATN was also a good way to bring back recent graduates and members of the community together.
"We invited not only our current students but alumni and our middle school students who are currently casted in Willy Wonka Jr. and some alumni. We also invited Orange Choirs to be involved with it because they also lost a lot of money during COVID-19 from not being able to do showcase two years in a row," Swain-Abrams said.
Because so many theater students are also in choir, they felt it was important to be inclusive of them and have them join the showcase.
"I decided to be a part of the show because I like doing sound crew and Ms. Swain-Abrams needed tech help for the show," Dennis said.
Once given the opportunity, a handful of OOHS alumni made the decision to come back and share the moment with the current students.
"My hope was less about the fundraising portion of it and more about the idea of pulling all these groups together. It became really special because we got to get people excited about performing again," Swain-Abrams said. "It also gave some of our alumni an opportunity to come back and share their talents, many of them have gone on to further education and they developed their voices and theater skills."
The songs chosen had been based off of Orangelight Production's shows, such as, "Be Our Guest" from "Beauty and the Beast" and "You Can't Stop The Beat" from the coming spring musical, "Hairspray".
"I wanted to see how we had all of the choir and theater kids together. I loved seeing all of us come together so we could raise the money that we lost last year," Dennis said.
Song choice and order made a huge impact on how the audience reacted to and understood the performance.
"There were a few slots where there were no songs that were from shows that I had done before, so in that case, I contacted an alumni soloist and asked them if they liked one of those songs in particular that they would like to perform and let them choose it," Swain-Abrams said.