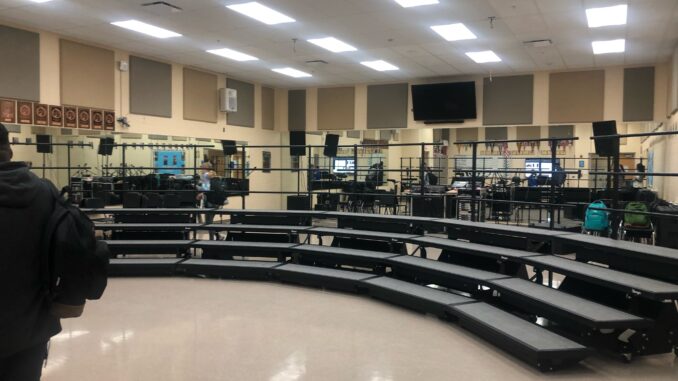 photo credit: Valentina Urbaez
The performing arts students woke up the morning of Oct. 9 with a fierce dedication to bring in funding for band, orchestra, choir and theatre. They were up and at the school by 8 a.m., representing their art with pride and on their chests. They split themselves into groups of four to six, scrambled to find their drivers and were sent off into separate neighborhoods for the POP Arts annual Day of Giving.
Juniors and seniors, having done this in previous years, knew what was coming. As for the sophomores, they were right there with the freshmen. Jumping from house to house, looking for donations isn't easy. Nerves built up not knowing what to expect from whoever opened their front door.
Students were entrusted with an envelope to keep the donations that came with tax receipts and a script on the back. Groups split themselves up on either side of the streets to move through houses more efficiently, rotating between who had to be the greeter and who just had to stand back and smile.
The vast majority of people were very kind and contributed by offering donations to the arts. Others simply didn't have the cash or time, so students moved swiftly to the next house. Between the hours of 8 a.m. and 12 p.m., groups made between 400 and 1000 dollars. The Day of Giving is POP Arts' biggest fundraiser of the year and is what supplies the most funds for students. It helps provide for costumes, equipment and necessary items to keep their craft going year to year.
"We are still receiving donations but are thrilled to say that we have collected over $17,000 form our Day of Giving," volunteer Krysta Denner said. She was one of the many eager and invested Olentangy moms that helped this years' fundraiser become what it was.