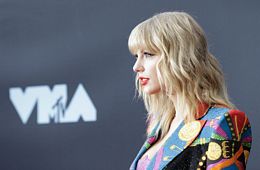 permission to print image: Gale
Taylor Swift released her 9th studio album evermore on Dec. 11. She announced in social media posts that it would be released at midnight that night. She said evermore was the sister album to her 8th studio album, folklore, that was released back in July, with evermore serving as a continuation and further artistic venture into "the forest of this music". The album features 15 songs and is listed as alternative rock and indie pop.
She said in the social media posts that she released the album to celebrate her 31st birthday. As a Taylor Swift fan, I was very excited and surprised for another album to come out.
Her lead single of the album is "willow", which is also the first song on the track list. I think this was a great song to choose as a single. It still has a pop, radio-hit feel, but it also has beautiful songwriting and instrumental.
I think the storytelling in this album is beautiful. She sings about various topics like a murder mystery in "no body no crime", featuring the band HAIM as well as a story of a failed marriage proposal in "champagne problems".
There is also some personal connection to Swift in this album. One of the songs titled "marjorie" is named after her grandmother. I feel that she also pays homage to her country beginnings with the song title "cowboy like me".
My favorite song on the album is "champagne problems" and it's also my favorite story she tells on the album. It's about college sweethearts: the man proposes to the woman who ends up saying no because of her battles with mental illness and the gossip that surrounds her declining the proposal. The story continues in "'tis the damn season" where the couple meets back up in their hometown after their breakup.
I enjoyed this album overall; like folklore, it's not made to be a mainstream music album, but a lyrically and instrumentally beautiful one. The stories go from sad and depressing to suspenseful, with some of the songs being more fast paced and some being extremely slow.
Her ability to tell many different stories in her songs, each about four minutes long, is mesmerizing. This album is perfect for when the mood to listen to some relaxing music strikes, and I've also found it to be a really good album to write and work to.