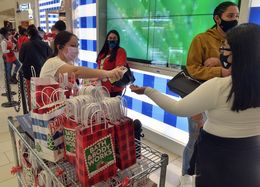 permission to print image: Gale
December: the time of the year where family and friends gather together. The season of giving, Christmas lights, evergreen trees, cookies, gifts, hot chocolate and smiles.
The holidays this year might look slightly different from past years due to COVID. Families potentially could be gathering via Zoom calls.
"We typically go to my family's house to celebrate together, this year we are deciding not to travel to keep my grandparents and the rest of my family safe," junior Emma-Cait Cogan said.
Families have spent most holidays this year separate and away from loved ones.
This past April, Easter was celebrated through virtual church sermons through livestreams. Families tuned in from their couches at home to try and have a sense of normalcy.
"My family didn't do anything for Easter because everyone was scared about the pandemic and there was an increase in deaths around that time," senior Timothy Hammond said.
The holidays hold the reputation of celebrations and traditions. Each year, families hold their own unique traditions.
Whether it be gathering and giving presents, fireworks, cooking or just spending time together families have holiday "routines".
"We mainly had a big Christmas dinner with the whole family and then go look at lights or stay in and have a holiday movie marathon," Hammond said.
The winter season holds true to celebrations throughout the month, Christmas, New Years, Hanukkah and Kwanzaa.
The holidays can be described in many different words.
"I would describe the holidays using the words Happily Together," Cogan said.
The holiday structure this winter will be different as COVID-19 cases are continually on the rise.
With the older generation at high risk, gathering with family will be a challenge.
"I won't see my family as much now because a good amount of my family is older and if I do see them then I have to social distance and wear a mask," Hammond said.