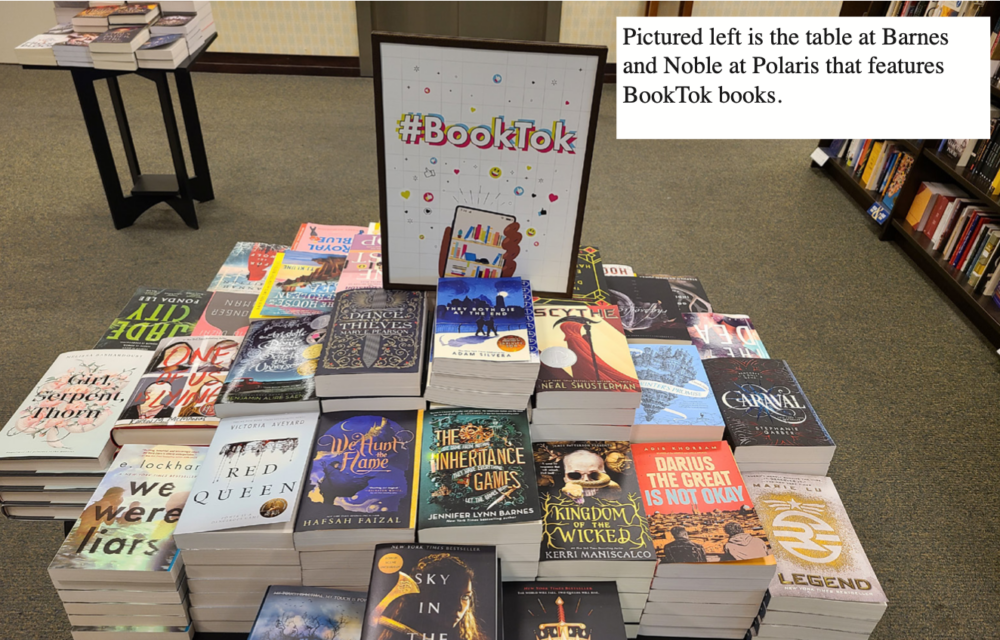 BookTok is the latest community for readers to come together on everything about their favorite books on the popular social media platform Tik Tok. Popularized by bookworms during the pandemic, BookTok takes a modern, online spin to book clubs.
This section is filled with people of all ages who are passionate about books. A dying interest within younger populations, BookTok allows those who do enjoy reading to find people to discuss their favorite pieces of literature.
"BookTok is sort of like the 'booktube' or the 'bookstagram' of TikTok. It's where a bunch of creators who are passionate about books and reading post anything from recommendations to reviews," junior Raeann Hedrick said.
The popular books on BookTok aren't the usual classics someone might find in their English class; most of them come from up-and-coming authors, giving them an opportunity to better advertise their products, as well as more widely known books.
"The most common books that you'll see on BookTok are young adult books," said senior Macie Smith said. "In the past years, creators have tried to start recommending books by more diverse authors."
While many of the communities on TikTok can be based upon gossip and celebrities, BookTok focuses on diversity in thoughts and ideas. Each person is given the opportunity to express themselves in their own way.
"The community is a very friendly place where opinions are celebrated and people do not partake in cancel culture," Rores said.
BookTok is growing at a fast rate as more people discover their love for reading. According to TikTok, the hashtag BookTok has over 20 billion views.
"I mostly get recommendations from BookTok," Hedrick said. Their "To Be Read" list, also known as a TBR to the community, has grown immensely since they've joined the app.
BookTok isn't a reflection of school as some might think; rather, it combines the amusing trends and the unique community from the social media platform in a way that can relate to the books.
"A lot of the content that I see is normally book recommendations. I'll also see people pretending to be characters, like how they think a character would react to a certain trend, or just making up skits based off of books in general," Smith said.
Trends and personal preferences from different accounts provide readers with a way to learn more about books. More than just recommendations, users get ideas ranging from DIY bookmarks to personal library ratings.
"I have read quite a few books from BookTok and have gotten some great annotation tips from creators on there. It is very easy for a book to be overhyped, so I don't frequently read the books on there unless a creator I trust posted about it," Rores said.
BookTok has been a catalyst for both new and old authors, allowing them to launch their books into the eyes of the public. Stores such as Barnes and Noble have even devoted different sections featuring new BookTok authors.
Recently, Red, White & Royal Blue by Casey Mcquiston has skyrocketed after its success on BookTok, returning as a New York Times Bestseller almost 2 years after its release. Being Mcquiston's first book, the popular novel put Mcquiston into the spotlight, even garnering an expected movie adaptation.
Describing their love for the book, Hedrick explained how BookTok revealed the trending title to them. "I loved the author's writing style, which made me read their other book that came out this summer, One Last Stop, and they're now one of my favorite authors.
BookTok is growing in popularity, with users joining everyday as new videos show up on their feed. Whether someone enjoys reading or not, there's undoubtedly something for everyone to enjoy. Hedrick said, "I think that people who don't like reading typically just need to find a really good book that fits their interests. There are so many recommendations on BookTok that I think anyone could find one."