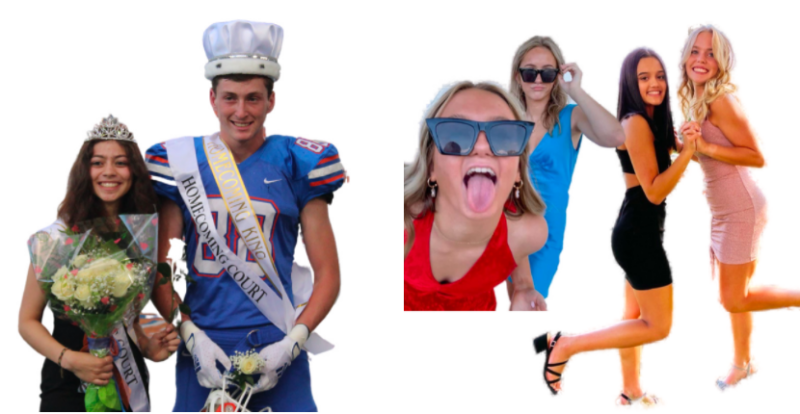 For the past year, students were not able to have the school dances they wanted. Instead, they were stuck at home with their "focos", which never gave them a chance to really experience homecoming. But this year, they finally got to get somewhat back to normal with the return of real homecoming.
The planning for this years' dance had been going on ever since school started. The student council and Sophomore Class Cabinet worked together to execute the dance.
"We had been planning homecoming ever since the first full week of school. We would all meet after school and talk about ideas for homecoming and what we could do to make the experience great," Sophomore Class Cabinet member Chase Qiu said.
One of the changes that the students had to make to this year's dance was the choice to put it outside in the Pioneer Stadium, instead of the usual location in the auxiliary gym.
"Even though COVID-19 isn't completely gone, we've tried our best to take caution," Sophomore Class Cabinet member Aparna Metta said. "This year's homecoming was held at the stadium. Masks weren't required, but they were recommended."
Even with a different dance this year, the students that planned homecoming still pushed to make sure that the experience at homecoming was fun, and as close to normal as possible. They ended up choosing the theme "A Moroccan Night" for this year's dance.
"This year's theme was 'A Moroccan Night', which is unique to the other themes we have done in the past. We decided on this theme because it's not only filled with tons of decoration ideas, but it was also something that drew our eyes," Metta said.
The theme that the Class Cabinet and Student Council had this year ended up being a very enjoyable experience for all the students that attended. There were many different activities and attractions at the dance that everyone there could enjoy.
"My favorite part of the dance was taking photos at the photo booth with my date and our friends," sophomore Natalie Beranek said.
The photo booth set up at this year's dance was a good way for students to keep great memories of the dance. Students got the chance to take four photos, and there were also lots of fun props to be used as well.
One student, grade Reagan Hoyt, said that one of her favorite parts of the dance was the photo booth as well. "The photo booth gave a lot of opportunities to take multiple pictures with all of my friends for free. I'm glad that option was available for us," she said.
While the unique photo booth at the dance caught a lot of students' attention, there were a lot of other fun things incorporated this year that students liked.
"My favorite part of the dance was when they played songs that I knew and could sing along to," junior Nick Francisco said.
Francisco previously attended homecoming before the COVID-19 breakout during his freshman year. There were some things he liked more about this year's dance than the previous years, while some things were better during the indoor dance.
One thing Francisco said he enjoyed about this year's dance was that the music that was played by the DJ was better than the last homecoming he attended. One thing Francisco said he didn't enjoy was how hot it got outside.
The winners of this year's homecoming king and queen were Kirti Chopra as queen, and Max Reidelbach as king.
This homecoming will always be one to remember. Whether students think of it as the best homecoming, or just an average dance, it will never be forgotten.
"I believe homecoming this year was very interesting, since it was the first time it has been outside. I was really looking forward to how other students will react to this year's homecoming," Qiu said.