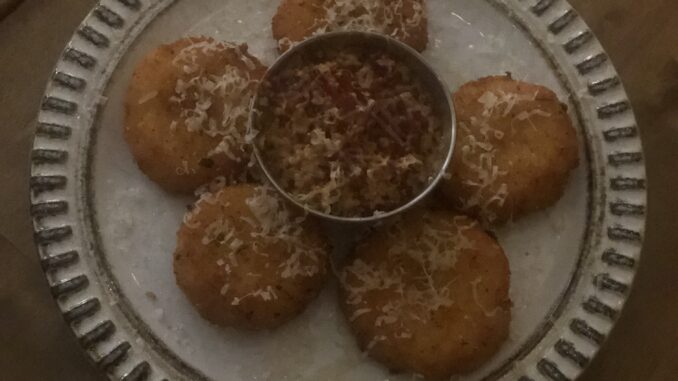 photo credit: Valentina Urbaez
Italian has always been a go-to choice when dining out, though Carfagna's hadn't crossed my mind when making the decision to go out. I'd heard the name get thrown around briefly and opinions on the restaurant had never been very polarizing. Overall, I heard good feedback from those who had gone so I figured it'd be my turn to try it out.
Carfagna's just opened in its new location in Polaris on Sept. 7 and upon arriving, my eyes immediately darted to the nail salon and Burlington that Carfagna's was in between. An interesting location, but I wasn't so quick to dismiss it. Continuing in, we were greeted by a large black counter with a bowl of candies and a host eager to seat us. The wait was very reasonable, only 10 minutes before I got a taste of what everyone was talking about.
The menu had a good variety of traditional dishes that I was excited to try. First came the appetizers, fresh bread and arancini. I was accustomed to arancini as large fried balls of rice and cheese so when these came out as flat circles, I was intrigued to see if the flavor would be changed in a major way. I was definitely surprised by the taste and to be frank, a bit underwhelmed. Ironically enough, the cheese overwhelmed the dish for me. I was expecting arancini to be better than previous plates in other restaurants. Unfortunately, it's not what I was met with. The bread was fresh and authentic so I did enjoy that, and Carfagna's marinara sauce definitely made up for the odd taste of arancini. On its own it costs $12.95.
For the main course, I ordered the Gnocchi Carfagna. I was a bit nervous considering I'd never had it before, but when it came out, I was pleasantly surprised. The mix of potato and pasta dough was perfect and the texture was like nothing I'd tried before. Living up to expectations, it was very doughy and filling. Carfagna's offered a very satisfying ratio between their marinara sauce and gnocchi. A great meal for only $15.95.
For the large portions of food and the care put into them the prices are fairly reasonable. The lunch menu can range from anywhere between $9 – $25, and the sides were between $4 and $6 while the dinner menu can go from $9 – $59, ala carte items are the same price as the lunch menu. For the cocktails and beverages, prices range from $8 – $13.
Our waiter was kind and well prepared, the restaurant as a whole felt very inviting, and the authenticity of the meals contributed to a good experience. Altogether, I'd give Carfagna's a 4/5 stars.