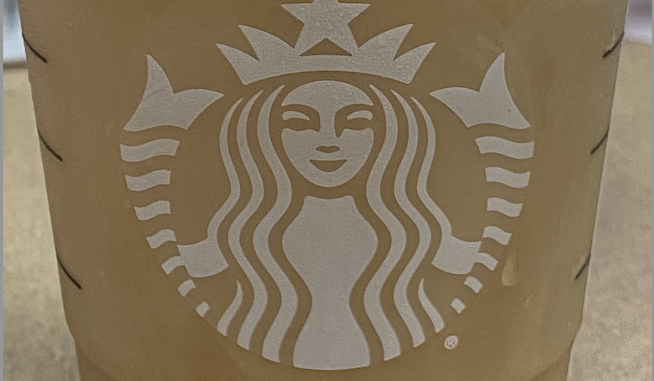 photo credit: Hailey Boyce
The world might have slowed down over the summer but pop culture is still moving fast. With a new school year comes new trends. This season has exciting new events on the way.
Starbucks's fall menu returned Aug. 30 and includes the classic Pumpkin Spice Latte everybody knows too well. Starbucks will also bring back the Pumpkin Cream Cold Brew and Apple Crisp Macchiato. However there will be a change to the Apple Crisp Macchiato, the new recipe will be made with oat milk and their blonde espresso, according to Starbucks.com
After trying the new version of the Apple Crisp Macchiato I can say that there is not a huge difference in taste except that it is slightly sweeter than the original.
Taylor Swift announced during her speech at the VMAs that she will be releasing a new album Oct. 21. The album is called "Midnights" and will have 13 tracks. Later, on social media she revealed three additional album covers.
She said the album is about "the stories of 13 sleepless nights scattered throughout my life," She also posted about the release with a description of the album.
As a Swiftie this is such exciting news, and I love how she announced it, surprised everybody. Also. I really like the description she wrote about the album; it really gives listeners a feel for what it might be about.
Joji released a new single called "YUKON (interlude)" and announced a new album that will be out Nov. 4, according to jojimusic.com. The Arctic Monkeys also released a new single called "There'd Better Be A Mirrorball" and their upcoming album "The Car" will be out Oct. 21. According to arcticmonkeys.com
I'm a pretty big fan of both Joji and the Arctic Monkeys, but I am mostly excited for the Arctic Monkeys because it has been a while since their last album. Joji also released a single earlier this year called "Glimpse of Us". which is so beautiful and so sad no matter how many times it's played.
Serena Williams gave it her all at the US open, the last tournament of her career after recently announcing she will be retiring from tennis. Williams won her first two singles matches and lost possibly the final match of her career playing singles against Aijla Tomljanovic. Many celebrities including Tiger Woods, Anna Wintour and Mike Tyson showed up to support her according to espn.com
It's really sad to see her retire from tennis because of how big of an impact she has made on people. It's especially sad to see her leaving on a loss in both doubles, with her sister Venus, and in singles.
During the Apple Event on Sept. 7 Apple released lots of new technology including the iPhone 14, AirPod Pros 2 and the Apple Watch Series 8 and possibly more. The new Airpod Pros 2 offer extra noise cancellation and now users can adjust the volume by swiping up or down on the Airpods. The iPhone 14 is fairly similar to the iPhone 13 with the biggest difference being camera quality and a 20-hour long battery life. However, the iPhone 14 Pro has some major changes including the front camera moving slightly down so it is in front of the screen. Another big change is Emergency S.O.S. which can detect car crash situations through satellite and calls 911, according Apple.com
I'm excited about the iPhone 14 Pro and the new airpods and all the really cool changes to it, but once again with the iPhone 14 it is just the exact same thing as the iPhone 13 just with a better camera and other small upgrades. Apple keeps on doing this with all the new phones they release when they used to actually make improvements to their new phones.