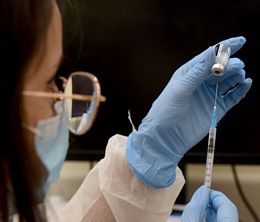 permission to print image: Gale
Masks have been a daily sight for everyone ever since the pandemic first started, but that sight might soon be no more. Many different companies have been attempting to push out COVID-19 vaccines for all age groups to further the goal of reaching herd immunity.
Generally, vaccines allow the immune system to build up experience by fighting something that resembles the virus. The purpose is to build up immunity to the actual virus that it is trying to replicate.
"A lot of times, they will take the shape of a virus and introduce the body to that shape, and what happens is that white blood will attach to it and mass produce in the body. This gives the immune system some experience, so when it gets hit with the real thing, it will be able to fight it off in the future," biology teacher Kevin Guse said.
The vaccine has already been tested and safe to distribute to anyone above the age of 18 but has recently been allowed to ages 16 and under.
"They are already starting to administer vaccines to 16 and over which covers juniors and seniors," Guse said.
Many 16-year-olds have decided to take the opportunity to get vaccinated in hopes of returning back to normal life.
"I want to be able to go out this summer without risking my health. I also hope that socialization goes back to normal, and we are more prepared for events similar to this pandemic," junior Rushil Lingichetty said.
Individuals can begin to set up appointments online to get vaccinated at their local pharmacies. The process is rather simple and quick.
"I signed up for an appointment online, went to CVS to check in and then got the vaccine. I also needed to show ID to confirm that I was of age," Lingichetty said.
Pfizer has been the only company approved to administer vaccines to teens under 18, but Moderna and Johnson & Johnson can be administered to teens under emergency conditions. The vaccine is given in two doses.
"If you received the Pfizer-BioNTech COVID-19 Vaccine, you should get your shot three weeks (or 21 days) after your first," according to the CDC.
There are multiple companies attempting to create a vaccine that can properly fight off COVID-19, but their main difference is their experience in the field.
"It goes down to how long they have been around. For instance, Johnson and Johnson, Astrazeneca and Pfizer have a long track record of creating vaccines that have worked in the past," Guse said.
It is very important and beneficial to see multiple companies attempt to create the COVID-19 vaccine. It speeds up the process, but at the same time prepares us for future events like this.
"The fact that we have all these companies working on this at the same time is fantastic because it just leads to greater technological advances as they compete with each other to get the vaccine out," Guse said.
In hopes of being able to administer the vaccine to all age groups, companies like Pfizer have begun clinical trials to set up the proper precautions.
"I know Pfizer right now is doing the trials with kids from 2-5 and 6-11. They are starting with the kids from 6 to 11 and they are trying to figure out which doses kids can handle," Guse said.
In order for Pfizer to gauge the proper dosage of younger age groups, they have to start off with a small dose and continuously build up. The sampling of kids is voluntary where they will have to sign up in order to participate in the clinical trial.
"I think I read they will start with 10 milligrams to make sure kids can handle that and then they will bump it up to 20 to make sure there are no negative side effects. If they can handle the 20, they will bump it up to 30, which is the dosage that adults get," Guse said.
If the trial is successful, the companies will increase their sample size for further testing.
"They will move on to broader pilots with around 1000 kids and see if the vaccine is actually effective before they release it to the population at large," Guse said.
Ohio school districts have decided to partner up with their local health departments to administer the Pfizer vaccine to all eligible 16-18 year olds.
For Olentangy Orange High School, the vaccine was administered at the main gym from 9 a.m. to noon on Apr. 28 and will be again on May 19, according to Principal Smith.
Overall, the administration of vaccines in various age groups will allow us to be one step closer to the return of normal life.

design: Makenna Shrager
source: CDC.gov