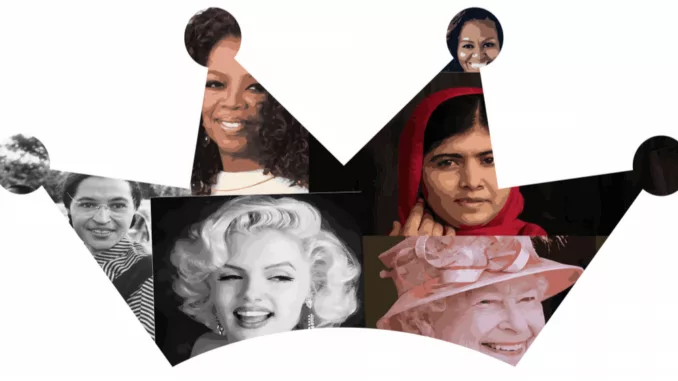 design: Brooke Farren
Even though women are pretty historic year-round, the month of March is specifically set aside each year to honor and celebrate women's contribution to history, culture and society in general.
In light of this significant month-long celebration, here's an unfiltered interview of three women from the OLSD. These staff members went in depth about stereotypes women face, their thoughts on the next generation of women and other topics regarding the female gender.
Rebecca Whitney- OOHS Social Studies teacher
Q: What does feminism mean to you?
A: Feminism means aspiring to equality for all genders. It's not about elevating women to a status that is above others or taking rights away from others. It's about making sure that women have access to the same opportunities as men.
Q: What do you believe will be the biggest challenge for the generation of women behind you?
A: Women in the next generation will have to continue to push for inclusive policies in the workplace and in society. Women need to be in leadership roles in the corporate and political world. We have made some advancements but are still underrepresented when it comes to powerful positions. Access to education for women around the world will have a major impact on helping to level the playing field for all. Women still earn around 80 cents to the dollar when compared to their male counterparts. This economic inequality needs to be addressed as well.
Amanda Hansen- OOMS IELA teacher & Orange Girls Alliance adviser
Q: What is your favorite thing about being a woman?
A: That I can play so many wonderful roles seamlessly, from friend to mother, teacher to mentor, daughter to wife. Thanks to those who fought for change I can embrace all the parts of myself, and I can continually redefine who I am as I move through my life instead of being painted in a box outside of my control.
Q: Are there any assumptions about women that you'd like to change? Why?
A: I think the myth of the "good" girl can be really dangerous; I'd like to see girls learn that it's OK to want to be liked and be well-behaved, but there are lines that cannot be crossed, It's sometimes necessary to stray from the "good" girl image to defend yourself or your ideals. It does not make you any less to rock the boat every once in a while, and nobody respects a doormat.
Leslie Hosgood- OOHS Social Studies teacher
Q: What woman/women inspires you and why ? (Celebrities, familiar member, historical figure, be specific)
A: I am inspired by any woman who uses her platform and power to help other women or challenge unequal power structures. There are many women I admire, but as a sports fan, a specific example that comes to mind is the relationship between Serena Williams and Naomi Osaka. I am inspired by their competitiveness and drive, but also their respect for one another. And each woman uses her platform to uplift others and amplify causes that are important to them. (Plus, Serena won a Grand Slam tournament while pregnant!)
Q: Anything else you want to touch on regarding women?
A: The impact of COVID on women. The economic consequences have hit hardest for women, especially women of color. Many of the gains women made in the workplace have been set back by the consequences of the pandemic and recession ("she-cession"). It's obvious that more needs to be done to change our structures to address these unequal effects of the pandemic.