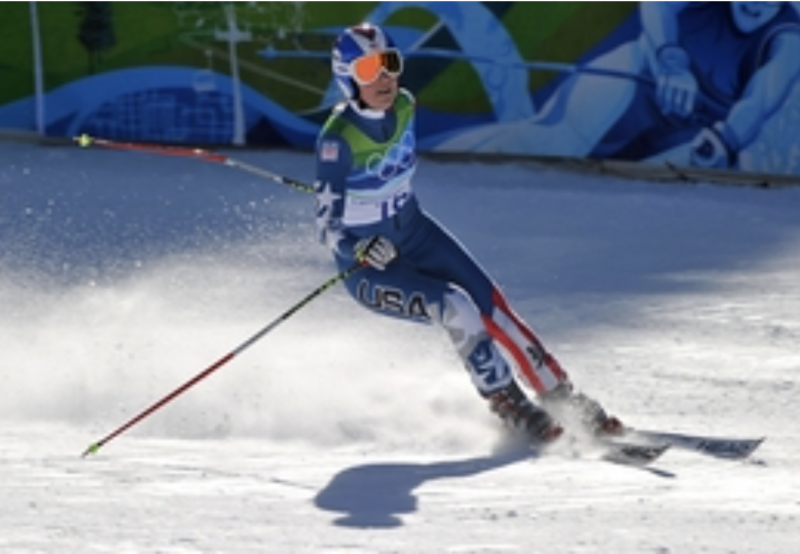 permission to print image: Gale
2020 has taken a lot from high school students, but skiers around the district will be looking to shred the monotony of the year by shredding the slopes into 2021.
Though the global pandemic has brought various safety concerns to the forefront of every event and activity happening this year, the Olentangy Ski Club plans to return this January with a new venue and a few adjustments to meet state guidelines.
One thing the club had to do to meet these guidelines was cut down on membership to make riding the bus for a long period of time safe.
"We limited the number of members to 400. We are only allowing 25 members on a charter bus. We will be following all Covid rules on the bus including air exchange and hand sanitizer," Club Adviser Debra Yacovone said.
Yacovone and fellow adviser David Rathje have been working hard with the district to ensure that the club can return this year. In order to pull it off, a few major changes had to be made, including the location.
The club will be going to Snow Trails this year, instead of the usual location, Mad River Mountain. Although Snow Trails is slightly smaller, Yacovne said it's the best place to hold the club this year.
"I think it will be better. Snow Trails is really working with us to enable us to bring our club there and still stay safe," Yacovone said.
Snow Trails, located at 3100 Possum Run Road in Mansfield, is dedicated to keeping all skiers safe this season, and has plans to keep the season going from December all the way until March. Restrictions on the number of people on lifts and distancing when waiting in lines will be enforced.
The resort is finding ways to keep the fun in the sport and adapt to the challenging season ahead. One of these challenges is keeping large gatherings spread apart and in fresh air, despite the sub-zero January temperatures.
"At the ski resort, the number of people in any building will be restricted, and everyone will be encouraged to stay outside. Snow Trails is setting up several large tents with patio heaters in order to provide a place to sit that is outdoors and still somewhat warm," Rathje said.
From the student perspective, everyone has to decide whether they want to participate with the group or go to the resorts on their own to avoid crowded busses and safety measures that a large group has to follow.
Ben Keller, a senior skier at Orange decided that he'd go on his own for his last year. Although it was hard for him to go away from the club for the first time, it was ultimately the unpredictability that caused him to decide on the flexibility of going separately.
"I decided to get a season pass and go with my buddies however for the past 6 years I've skied through the Olentangy Ski Club," Keller said. "I have a busy schedule and although it's very convenient to take the bus with work and sports it's easier for me to decide the days to go."
Senior and snowboarder Joe Gargasz is still deliberating, and said, "it's up in the air. It honestly depends on the opinions of my friends who I go to Ski Club with in the first place."
Skiing is something that the students that participate see as a break from the monotony that the pandemic has created in the lives of many. No matter how they go, it'll be an activity that gives them a rush in a world that has become predictable and dull.
"I'm very excited to ski with all my friends. I think it's a very safe activity during Covid 19, since we already wear gaiters to keep warm from the bitter wind, which now acts as our masks to keep us safe. I have no fear of contracting the virus out on the slopes. Skiing is definitely a highlight of my winter and helps get me through the season, and now the pandemic," Keller said.
Gargasz will be snowboarding this year whether he does it with the club or not, as he doesn't want to let the pandemic have a negative effect on his winter and said as long as he's on a slope, he'll have a good time.
"As long as there aren't any massive setbacks in terms of actually being able to ski/board then it will be just as fun. The only thing I can think of that would be that different would be how many people could be on the ski lift and that could make it difficult to get enough rides down the trails in one day, but I wouldn't mind that too much," Gargasz said.
Skiing will be a break from the reality of the pandemic this year, which will likely fill up the slopes at every resort as soon as snow is made. The Ski Club will be joining in the fun from the start; the group will be hitting the slopes for its first day on Jan. 10.