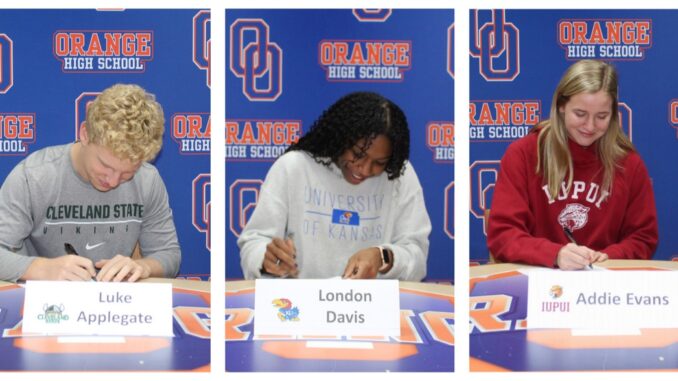 photos: Maggie Van Fleet
design: Jaylen Lewis
This time of year is usually filled with eager juniors traveling throughout the state or country to different colleges trying to envision themselves immersed in various college cultures. Due to COVID-19, many colleges shut down their campus for not only their current students but also any visiting ones, including athletes.
Usually student athletes are allowed five official visits to Division I schools. Typically college coaches can begin contacting athletes starting June 1 or Sept. 1 of their junior year, depending on the sport.
Any time before the allotted date would be considered the dead period for a student's sport where they may not have any in-person contact with a coach but can communicate via email, telephone, etc.
As universities began to open back up, they opened with a plethora of new rules, many of which affected athletes.
One of the most important recruitment rules is the dead period that all coaches and athletes must abide by, according to Athletic Director Brett Diehl.
"Each sport has a dead period where college coaches can't contact high school athletes and cannot have them on campus," Diehl said.
The National Collegiate Athletic Association was forced to cancel and change many traditional events held at colleges during the recruitment process.
"There's a few different 'windows' depending on the sport but especially during the summer there's a huge window where kids got to go to college campuses to go to camps and clinics where they sometimes get recruited. So that was taken away this summer," Diehl said.
Junior year is the prime time for high school athletes to get recruited. This process looked very different for junior soccer player Maia Kaufman who began her college search during the peak of COVID-19.
"With COVID, they have pushed back the NCAA recruiting dead period until April 15," Kaufman said.
Due to all the time lost from state-mandated quarantines and college shut downs, the NCAA decided to give their potential players some extra time to hunt for a team.
"A lot of showcases have been cancelled, which is where we get most of our exposure," Kaufman said. "During showcases teams would come in from every state and play normal games to showcase yourself to colleges while the coaches watch from the sidelines."
College showcases are usually swimming with coaches on the prowl for future players. Not only did the sporting events like showcases and camps get terminated from COVID-19 but so did visits in general.
"A lot of schools have a bubble and aren't allowing in-person visits," junior football player Luke Houston said.
While most student athletes were at a disadvantage from these changes, Houston found himself with the upper-hand. Most athletes missed out on the face-to-face connections with potential coaches and teammates, but he was able to actually have a more personal experience with one of his top college choices.
"The process this year was much more focused on me because I was the only one touring when I visited Ohio Wesleyan University, which is much different than traditional visits where other players are touring as well. I liked having more individual time with their coaches," Houston said.
While the majority of opportunities were taken away from most athletes, the NCAA attempted to give these students as much of a chance as possible to play a college sport.
The organization proposed and approved a waiver for fall athletes from the 2020 season. This waiver gave students the chance to retain a year of eligibility for their sport.
While this opportunity gives college seniors another shot to play, in the meantime it will not take away a spot for incoming players. However, their scholarship money will be renewed for these players and not taken away from any incoming ones, according to CBS Sports. This is another drastic effect from COVID-19 that hopefully will not affect any of the high school's athletes when their time to head to college rolls around.